2024 Hyundai Santa Fe Bold Design for Effortless Outdoor Lifestyle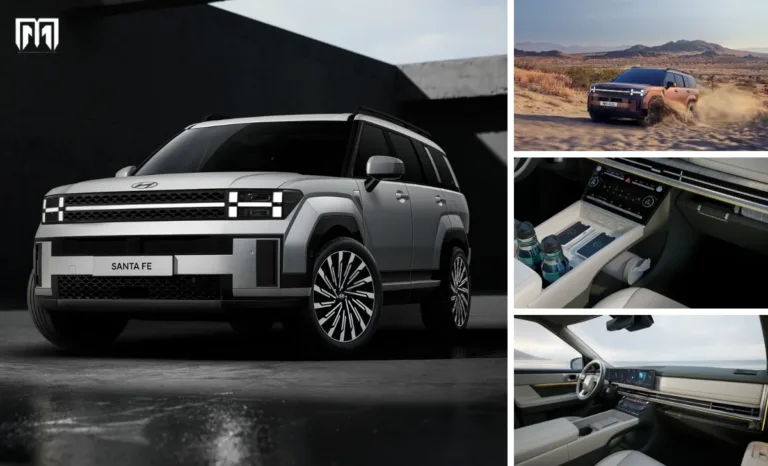 The all-new Santa Fe, a highly awaited fifth-generation midsize SUV from Hyundai Motor Company, was just introduced. Santa Fe has undergone a significant design evolution in its most recent generation, underscoring its dedication to providing outdoor enthusiasts with a great driving experience. The new Santa Fe delivers an "expansion of experiences" in daily living with a lifestyle-based design typology that maximizes rear load space and easily links the city and environment. Let's explore the outstanding attributes and aesthetic choices that make the all-new Santa Fe a standout option for people looking for a functional and fashionable SUV.
Hyundai Motor Company has recently unveiled the all-new Santa Fe, their fifth-generation midsize SUV. This latest iteration of the Santa Fe combines Hyundai's signature nature-meets-city appeal with major updates shaped by big data and the latest outdoor lifestyle trends. The all-new Santa Fe represents a paradigm shift in design by adopting a lifestyle-based design typology, resulting in a radical transformation both in its exterior and interior. This approach maximizes rear cargo capacity and accommodates various outdoor and urban activities, making Santa Fe an ideal companion for every adventure.
Maximizing Presence with a Strong, Unique Exterior Design
The all-new Santa Fe commands attention with its bold and distinctive exterior design. Its boxy shape and distinct silhouette are a result of its long wheelbase and wide tailgate area. The front of the vehicle exudes grandeur with its high hood, H-shaped headlamps, and bold, sharp fenders. The H-shaped headlamps perfectly harmonize with the H-motif lower front design, enhancing visual completeness. This unique design element reinterprets Hyundai's iconic 'H' emblem, adding an extra touch of sophistication.
When viewed from the side, the lengthened wheelbase of the all-new Santa Fe accommodates a bold roofline and powerful volume around the fenders. The sharply defined wheel arches and shortened front overhang contribute to its adventurous look. The Santa Fe rides on impressive 21-inch wheels, further emphasizing its robust and capable stance. The rear end of the vehicle features a simpler design, beautifully balancing the overall exterior aesthetics. The H-shaped taillights create harmony and a distinctive Santa Fe presence on the road, whether it's day or night.
The Extended Tailgate and Accommodating Cabin Provide Best-in-Class Space
One of the standout features of the all-new Santa Fe is its extended tailgate, which opens up to a spacious interior that offers a terrace-like feel. This design element enhances the usability and versatility of the SUV, making it perfect for an effortless outdoor lifestyle. The second-and third-row seats are fully foldable, providing class-leading interior space. These features allow users to enjoy the outdoors in the easiest way possible, making Santa Fe a scene-stealer in urban settings.
Families, in particular, will find the rear area of the all-new Santa Fe incredibly useful for a wide range of purposes. Whether it's grocery shopping, home improvement projects, sports and recreation, gardening, family outings, or pet transportation, Santa Fe's spacious rear area can effortlessly accommodate various needs. This versatility makes Santa Fe an ideal companion for busy families, offering a premium customer experience that caters to their ever-changing requirements.
Refined Interior Design with Emphasis on Spaciousness and Luxury
Step inside the all-new Santa Fe, and you'll be greeted by a refined interior design that exudes spaciousness and luxury. The dashboard and air vents feature an H-motif design, emphasizing horizontal and vertical lines to enhance the sense of openness and create a unique sensibility. The Santa Fe's interior refinement is further exemplified by a range of high-tech features.
One notable feature is the Panoramic Curved Display, which seamlessly connects the 12.3-inch digital cluster and infotainment system. This curved display not only enhances driver visibility but also delivers a sense of luxury. The brightly colored seats and headliner create an even greater sense of spaciousness, elevating the overall interior ambiance. Adding to the sophisticated style are the soft-touch wood-patterned garnish and Nappa leather seats with delicate embroidery.
Hyundai also prioritizes sustainability in the all-new Santa Fe. The SUV incorporates a number of eco-friendly materials, including a suede headliner, car mats, and second- and third-row seatbacks made from recycled plastic. The crash pad and door trim covers are crafted from eco-friendly leatherette. This commitment to sustainable materials showcases Hyundai's dedication to a greener future.
Conclusion
Hyundai's all-new Santa Fe represents a groundbreaking evolution in the midsize SUV segment. With its bold and unique exterior design, spacious interior, and refined details, the Santa Fe offers a perfect balance between city life and the great outdoors. Whether it's embarking on a family adventure or handling everyday tasks, the Santa Fe's versatility shines through. Hyundai's commitment to an effortless outdoor lifestyle is clearly evident in the all-new Santa Fe, making it a top choice for those seeking a stylish and capable SUV.
Also, Read:
Top 10 Best Car Buying Apps to Simplify Your Search
Hyundai Exter: Compact SUV with Impressive Powertrain and Fuel Economy
Maruti Suzuki Invicto: The Perfect MPV for Families and Businesses