Maruti Suzuki Invicto: The Perfect MPV for Families and Businesses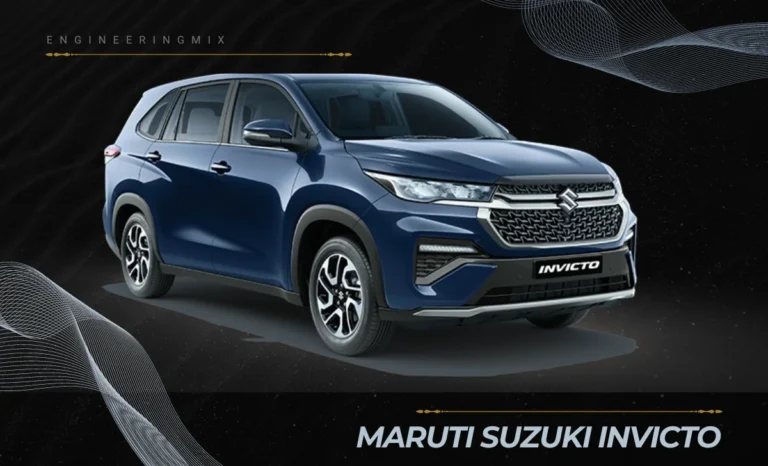 The Maruti Suzuki Invicto is the latest MPV from Maruti Suzuki, one of India's leading automobile manufacturers. With its impressive features and reliable performance, the Invicto has quickly gained popularity among car enthusiasts and families. In this article, we will explore the critical aspects of the Maruti Suzuki Invicto and why it is a compelling choice in the MPV segment.
The Maruti Suzuki Invicto combines style, performance, and functionality to offer a comprehensive package for consumers in the MPV market. With its sleek design, powerful engine, spacious cabin, and advanced features, the Invicto sets new benchmarks in its class.
The image source for this article is nexaexperience.com
CONTENTS
Powerful Petrol-Hybrid Engine
The heart of the Maruti Suzuki Invicto lies under its hood. It is powered by a 2.0-liter petrol-hybrid engine that delivers a remarkable performance. With an output of 172 horsepower and 188 Nm of torque, the Invicto offers a smooth and responsive driving experience. The engine is paired with an e-CVT transmission, ensuring seamless gear shifts and enhanced fuel efficiency.
Spacious and Well-Equipped Interior
Step inside the Maruti Suzuki Invicto and a spacious and well-appointed cabin greet you. The MPV is designed to accommodate seven or eight passengers comfortably, depending on the chosen seating configuration. The plush seats, along with ample legroom and headroom, ensure a comfortable journey for everyone on board.
The Invicto comes loaded with features to enhance convenience and entertainment. It boasts a 7-inch touchscreen infotainment system equipped with Apple CarPlay and Android Auto, allowing seamless integration with your smartphone. The Alpha Plus variant takes it up a notch with an 8-speaker JBL audio system, leather upholstery, a panoramic sunroof, heated front seats, adaptive cruise control, lane departure warning, and blind-spot monitoring.
Advanced Safety Features
Safety is a paramount consideration for Maruti Suzuki, and the Invicto reflects this commitment. The MPV is equipped with dual airbags, ABS with EBD (Anti-lock Braking System with Electronic Brakeforce Distribution), and ISOFIX child seat mounts. These features ensure the safety and protection of passengers, making Invicto a reliable choice for families.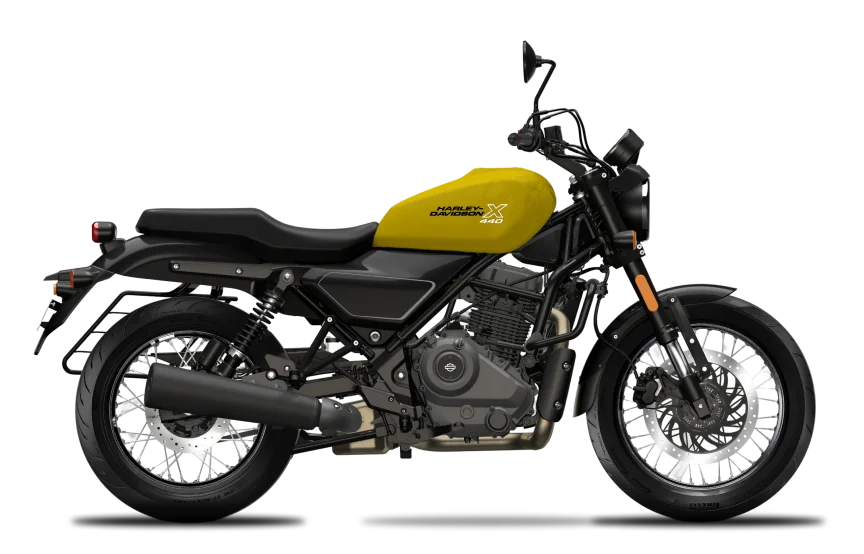 Get More Details of the Harley-Davidson X440
Variants and Pricing
The Maruti Suzuki Invicto offers two variants: Zeta Plus and Alpha Plus. Additionally, customers can choose between a 7-seater or 8-seater configuration to suit their requirements. The Zeta Plus variant is priced at Rs. 24.79 lakhs for the 7-seater model and Rs. 24.84 lakhs for the 8-seater model. With its premium features, the Alpha Plus variant is priced at Rs. 28.42 lakhs for the 7-seater configuration.
The Invicto for Families
For families seeking a spacious and comfortable MPV, the Maruti Suzuki Invicto fits the bill perfectly. Its generous interior space, combined with thoughtful features like ISOFIX child seat mounts and a panoramic sunroof, ensures a pleasurable journey for the entire family. Whether it's a weekend getaway or a long road trip, the Invicto provides the comfort and convenience required to make every adventure memorable.
The Invicto for Businesses
Businesses looking for a reliable and versatile vehicle will find the Maruti Suzuki Invicto to be an excellent choice. With its fuel-efficient hybrid engine and spacious interior, it is ideal for transporting employees and cargo. The Invicto's advanced features, including the touchscreen infotainment system and dual airbags, cater to the needs of modern businesses, ensuring a safe and comfortable travel experience.
Key Features of the Maruti Suzuki Invicto
Here are some of the key features that make the Maruti Suzuki Invicto stand out:
| | |
| --- | --- |
| Engine | 2.0-liter petrol-hybrid engine |
| Transmission | e-CVT transmission |
| Horsepower | 150.19bhp@6000rpm |
| Torque | 188Nm@4400-5200rpm |
| Fuel Efficiency | 23.2 kmpl fuel efficiency |
| Infotainment System | The 7-inch touchscreen infotainment system |
| Airbags | 6-Airbags |
| ABS | ABS with EBD |
| Child Seat Mounts | ISOFIX child seat mounts |
| Audio System | 8-speaker JBL audio system |
| Panoramic Sunroof | |
| Upholstery | Leather |
| Heated Front Seats | |
| Cruise Control | Adaptive cruise control |
| Lane Departure Warning | |
| Blind Spot Monitoring | |
Alpha Plus and Zeta Plus Hybrid Options are available. Both are the same specs:
| | |
| --- | --- |
| Battery Type | 168 cell Ni-MH (Nickel Metal Hydride) |
| Battery Voltage (V) | 201.6 |
| Driving Mode | ECO+Normal+Power |
| EV Mode | |
| Max Power (kW@rpm) | 83.73 kW @ 4000 rpm |
| Max Torque (Nm@rpm) | 206Nm |
| Total System Max. Power (1kW=1.35962 PS) | 137 kW |
| Motor Generator Type | AC Synchronous Motor |
Available Colors
The Maruti Suzuki Invicto is available in the following attractive colors: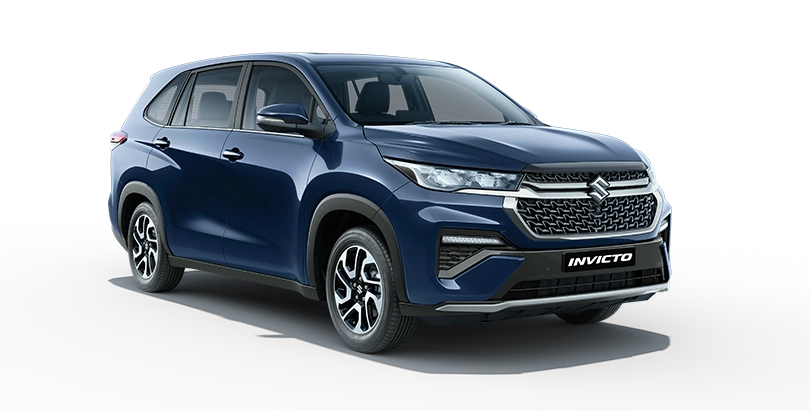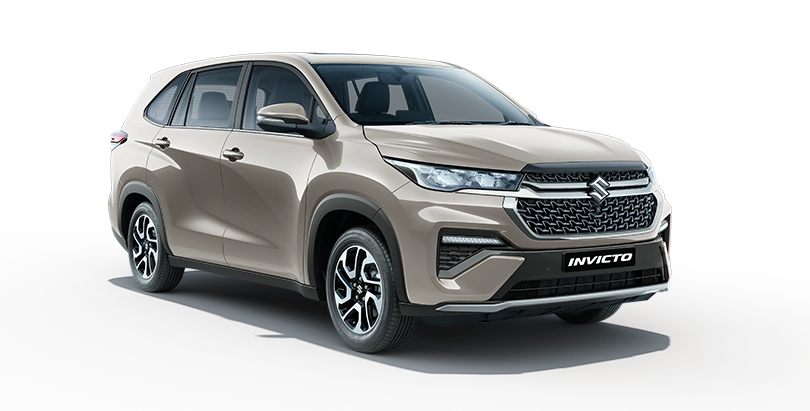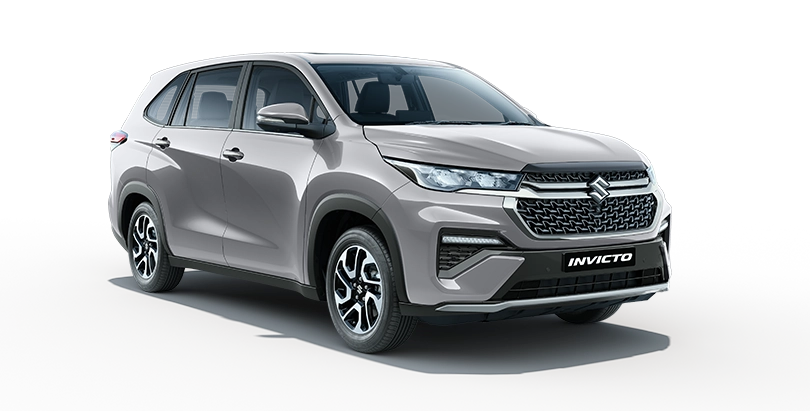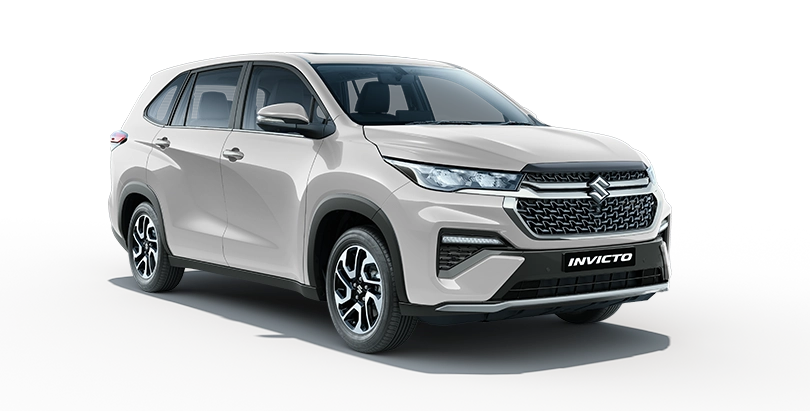 Conclusion
In conclusion, the Maruti Suzuki Invicto is a versatile and feature-rich MPV that offers an exceptional driving experience. With its powerful petrol-hybrid engine, spacious and well-equipped interior, advanced safety features, and competitive pricing, it is a compelling choice for both families and businesses. Whether you're planning a family outing or need a reliable vehicle for your business operations, the Invicto ticks all the right boxes.