Hyundai Exter: Compact SUV with Impressive Powertrain and Fuel Economy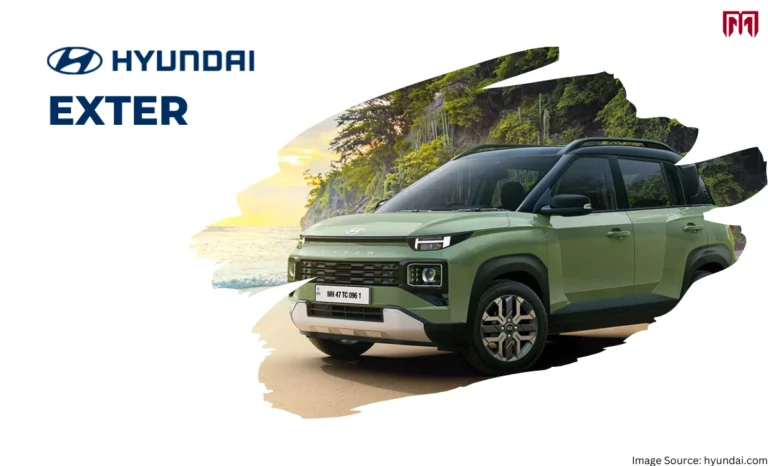 Hyundai has recently introduced the Exter, its smallest and most affordable SUV in the market, targeting budget-conscious buyers without compromising on style and performance. With introductory prices starting from Rs 6 lakh and going up to Rs 9.32 lakh for the top-spec trim (all prices ex-showroom, India), the Exter offers excellent value for its segment. In this article, we will explore the key features of the Hyundai Exter, including its powertrain, fuel economy, exterior design, interior comfort, features, and competitors.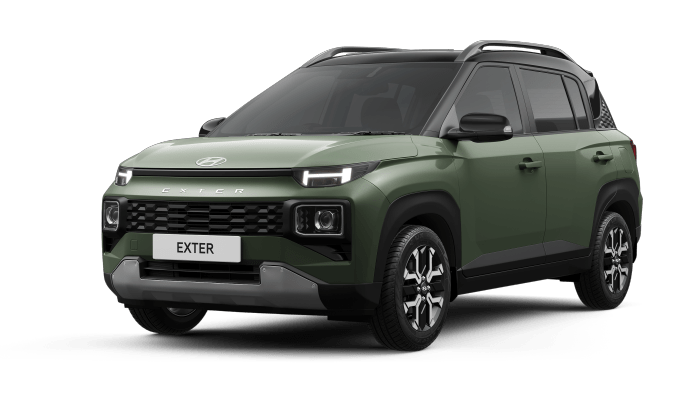 Design
Hyundai EXTER: Modern SUV for exciting journeys. The innovative spacious design offers unrivaled comfort for all trips, long or short.
Voice-enabled smart electric sunroof
The new SUV includes a controlled by voice Smart Electric Sunroof.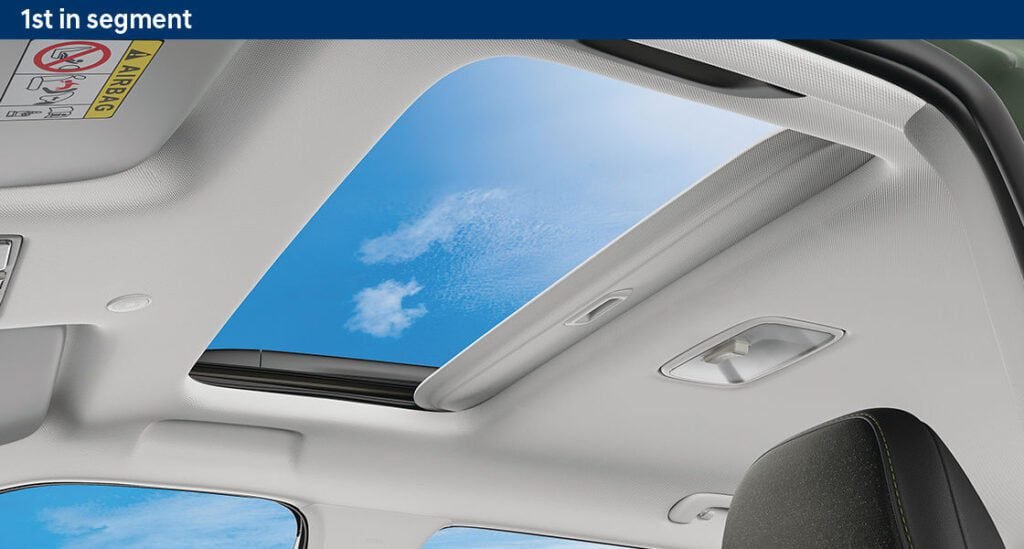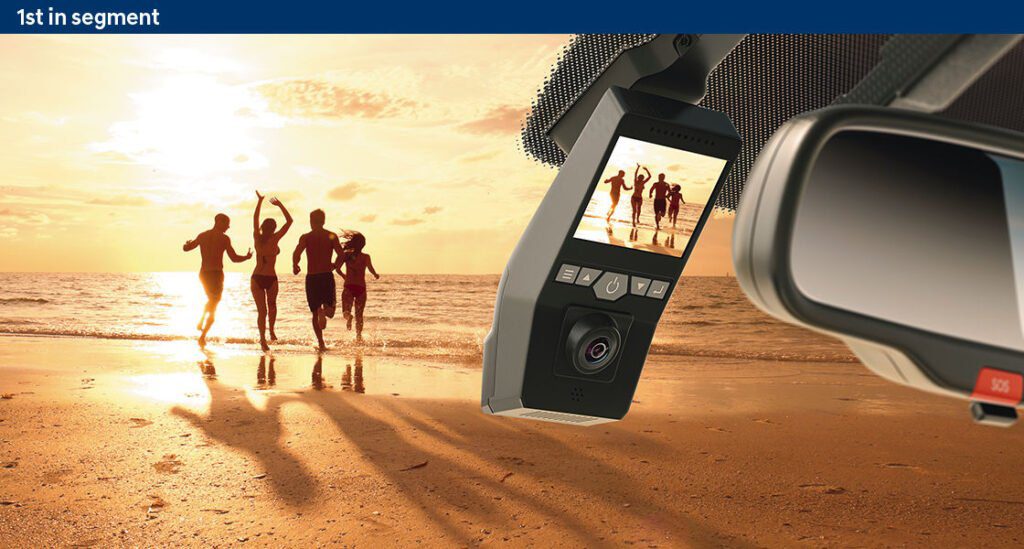 Dashcam with dual camera
New SUV: Dual camera Dashcam, 5.84 cm LCD, app-based connectivity, various recording modes.
40 advanced safety features
Hyundai EXTER sets a new safety benchmark with 40+ advanced features, including Headlamp Escort, Auto Headlamps, ISOFIX, Rear Defogger, and Rear Parking Camera.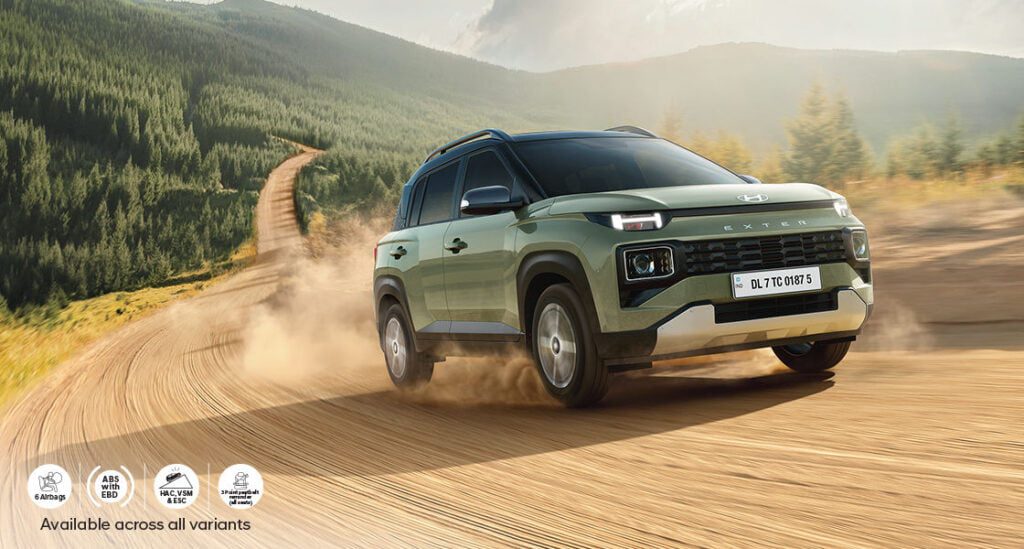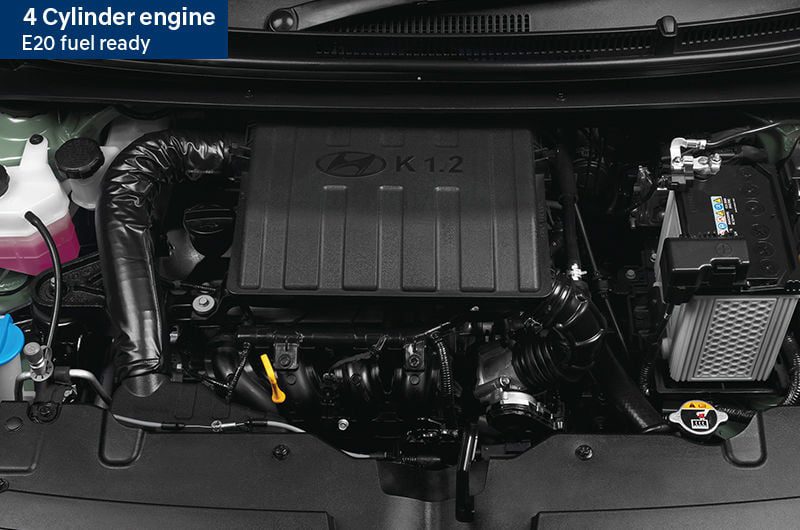 Engine
Hyundai EXTER offers 3 powertrain choices: 1.2L Kappa Petrol engine (E20 Fuel Ready) with 5-speed manual or Smart Auto AMT, and 1.2L Bi-fuel Kappa Petrol-CNG engine with 5-speed manual.
Hyundai EXTER represents outdoor adventure and leisure. This new SUV draws inspiration from nature, emphasizing an external and outward-focused identity. It presents a contemporary interpretation of the Hyundai SUV lifestyle.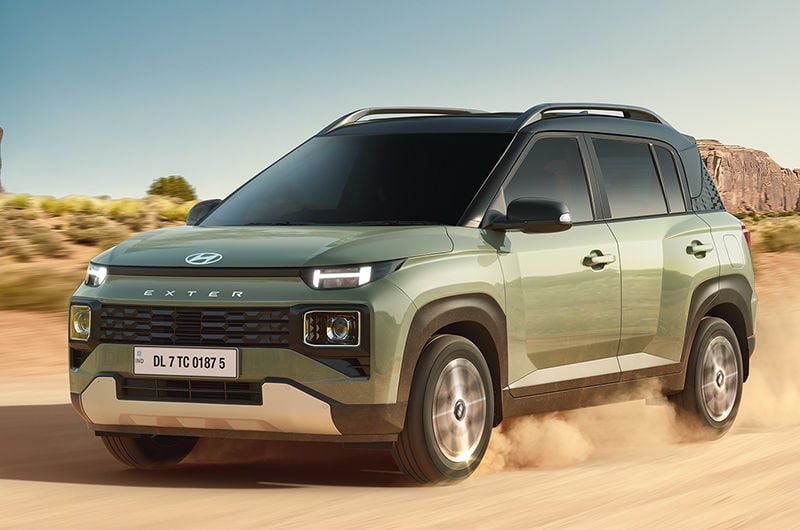 The image source for this article is hyundai.com
CONTENTS
The Hyundai Exter is an impressive addition to the SUV lineup, providing a compact and affordable option for consumers who desire a stylish vehicle. Despite its compact dimensions, the Exter offers a comfortable interior, along with a range of advanced features and safety measures.
Powertrain and Fuel Economy
The Exter is equipped with a 1.2-liter, naturally aspirated, four-cylinder petrol engine that delivers a power output of 83hp and a peak torque of 114Nm. This powertrain, which is shared with other popular Hyundai models such as the Nios, i20, and Venue, ensures a spirited and enjoyable driving experience. The engine can be paired with either a 5-speed manual or a 5-speed AMT gearbox, providing flexibility for drivers to choose their preferred transmission option.
For those seeking fuel efficiency, the Exter offers a CNG variant that produces 69hp and 95.2Nm of torque. The CNG variant is available exclusively with a manual gearbox, catering to customers who prioritize economical fuel consumption.
In terms of fuel economy, the Exter delivers commendable figures. The petrol variant with a manual transmission achieves a fuel efficiency rating of 19.4 kilometers per liter (kpl), while the AMT variant offers a rating of 19.2 kpl. However, the factory-fitted CNG option stands out with its exceptional fuel economy of 27.10 kpl, making it an ideal choice for those who prioritize cost-effective driving.
(Check: Maruti Suzuki Invicto: The Perfect MPV for Families and Businesses)
Exterior Design
Hyundai has applied its renowned parametric design language to the Exter, resulting in a visually striking and modern appearance. The Exter features textured detailing on the C-pillar and tailgate garnish, adding depth and character to the SUV's exterior. Notably, the Exter showcases a new H-pattern LED treatment for daytime running lamps and tail lamps, enhancing its overall appeal.
Despite its compact size, the Exter embraces typical SUV styling cues, including boxy proportions, prominent body cladding, and flared wheel arches. Additionally, higher-spec trims offer 15-inch dual-tone alloy wheels, further enhancing the SUV's visual allure. Hyundai provides a wide range of color options, including solid colors, dual-tone combinations, and interior color choices, allowing customers to personalize their Exter to their liking. The dimensions of the Exter measure 150 inches in length, 67 inches in width, and 64 inches in height, with a wheelbase of 96 inches and a ground clearance of 7.3 inches.
Interior Comfort
Step inside the Hyundai Exter, and you'll find a thoughtfully designed interior that prioritizes comfort and convenience. The dashboard design is carried over from the Nios and Aura models, known for their ergonomic layout and user-friendly interfaces. The Exter features an all-black color scheme, creating a sporty and contemporary ambiance within the cabin. Furthermore, the Exter offers a fully digital instrument cluster with a 4.2-inch MID, providing crucial information to drivers in a clear and intuitive manner.
The interior of the Exter features patterned accents on the dashboard, door pads, and around the gear lever, adding visual interest and elevating the overall aesthetics. Higher trims of the Exter offer semi-leatherette seat upholstery finished in dual-tone black and olive-green shades, exuding an upscale and sophisticated feel. However, it's worth noting that the Exter does not include a rear seat armrest.
Exciting Features
The Hyundai Exter is equipped with a wide range of features designed to enhance comfort, convenience, and entertainment. Some notable features include:
Single-pane sunroof: The Exter offers a segment-first single-pane sunroof, allowing occupants to enjoy natural light and fresh air.
Factory-fitted dashcam with dual cameras: Another segment-first feature, the Exter comes equipped with a dashcam that has dual cameras, providing an added layer of safety and security.
Automatic projector headlamps: The Exter ensures optimal visibility with automatic projector headlamps that illuminate the road ahead effectively.
Keyless entry and go: Accessing and starting the Exter is effortless and convenient with the keyless entry and go feature.
8-inch touchscreen: The Exter features an 8-inch touchscreen infotainment system that provides access to various entertainment and connectivity options.
Apple CarPlay and Android Auto: Seamlessly integrate your smartphone with Exter's infotainment system using Apple CarPlay or Android Auto, enabling hands-free calling, music streaming, and navigation.
Wireless charging: The Exter offers wireless charging functionality, allowing you to conveniently power up compatible devices without the hassle of cords and cables.
Connected car tech: Stay connected on the go with Hyundai's connected car technology, providing features such as remote vehicle access, vehicle health monitoring, and geo-fencing.
Voice-activated commands: Control various functions of the Exter using voice-activated commands, available in multiple languages.
Over-the-air (OTA) updates: The Exter receives OTA updates, ensuring that your vehicle's software remains up to date with the latest enhancements and features.
(Check: Differences Between the Suzuki Invicto and Toyota Innova Hycross)
Safety Measures
Hyundai prioritizes safety in the Exter, equipping it with a range of safety features to provide peace of mind for both the driver and passengers. Some notable safety measures include:
Six airbags: The Exter offers six airbags, providing comprehensive protection to occupants in the event of a collision.
Electronic Stability Control (ESC): ESC helps maintain vehicle stability during sudden maneuvers or slippery surfaces, enhancing overall safety.
Hill Assist Control: Hill Assist Control prevents the vehicle from rolling back on inclines, providing a worry-free driving experience.
ABS with EBD: The Exter features Anti-lock Braking System (ABS) with Electronic Brake-force Distribution (EBD), ensuring effective braking performance and stability.
Rear parking sensors and camera: Reverse with confidence using the Exter's rear parking sensors and camera, offering enhanced visibility and preventing potential collisions.
Three-point seatbelt and seatbelt reminders: The Exter ensures the safety of all passengers with three-point seatbelts and seatbelt reminders for all seats.
ISOFIX anchorages: The Exter provides ISOFIX anchorages for the secure installation of child seats, ensuring the safety of young passengers
Pricing and Availability
The Hyundai Exter enters the market with introductory prices starting from Rs 6 lakh and going up to Rs 9.32 lakh for the top-spec trim (all prices ex-showroom, India). The automatic trims start at Rs 7.97 lakh, while the CNG trims start at Rs 8.24 lakh (ex-showroom, India). Please note that the remaining prices will be announced at a later date. Hyundai aims to make Exter accessible to a wide range of customers with its competitive pricing strategy.
| Variant | Prices |
| --- | --- |
| 1.2 l Kappa Petrol 5-Speed Manual EXTER – EX | ₹ 5 99 900 |
| 1.2 l Kappa Petrol 5-Speed Manual EXTER – EX (O) | ₹ 6 24 990 |
| 1.2 l Kappa Petrol 5-Speed Manual EXTER – S | ₹ 7 26 990 |
| 1.2 l Kappa Petrol 5-Speed Manual EXTER – S (O) | ₹ 7 41 990 |
| 1.2 l Kappa Petrol Smart Auto AMT EXTER – S | ₹ 7 96 980 |
| 1.2 l Kappa Petrol 5-Speed Manual EXTER – SX | ₹ 7 99 990 |
| 1.2 l Kappa Petrol 5-Speed Manual EXTER – SX Dual Tone | ₹ 8 22 990 |
| 1.2 l Kappa Petrol 5-Speed Manual EXTER – SX (O) | ₹ 8 63 990 |
| 1.2 l Kappa Petrol Smart Auto AMT EXTER – SX | ₹ 8 67 990 |
| 1.2 l Kappa Petrol Smart Auto AMT EXTER – SX Dual Tone | ₹ 8 90 990 |
| 1.2 l Kappa Petrol 5-Speed Manual EXTER – SX (O) Connect | ₹ 9 31 990 |
| 1.2 l Kappa Petrol Smart Auto AMT EXTER – SX (O) | ₹ 9 31 990 |
| 1.2 l Kappa Petrol 5-Speed Manual EXTER – SX (O) Connect Dual Tone | ₹ 9 41 990 |
| 1.2 l Kappa Petrol Smart Auto AMT EXTER – SX (O) Connect | ₹ 9 99 990 |
| 1.2 l Kappa Petrol Smart Auto AMT EXTER – SX (O) Connect Dual Tone | ₹ 10 09 990 |
| 1.2 l Kappa Bi-Fuel CNG 5-Speed Manual EXTER – S CNG | ₹ 8 23 990 |
| 1.2 l Kappa Bi-Fuel CNG 5-Speed Manual EXTER – SX CNG | ₹ 8 96 990 |
Source: hyundai.com
For availability, the Exter will be available at Hyundai dealerships across India, ensuring that interested buyers can easily access and test drive this compact SUV. Prospective customers are encouraged to visit their nearest Hyundai showroom or contact authorized Hyundai dealers for more information regarding availability and booking details.
Rivals and Competition
The Hyundai Exter faces stiff competition in the compact SUV segment. It rivals models such as the Tata Punch, Citroen C3, Maruti Suzuki Ignis, Nissan Magnite, and Renault Kiger. Each of these vehicles offers unique features and characteristics, catering to various customer preferences. The Exter aims to stand out by providing a compelling combination of power, efficiency, style, and value for money.
Exter Specification
Overview
| | |
| --- | --- |
| Category | SUV |
| Product Label | 1.2l Kappa Petrol |
| Model Name | EXTER |
| Seats | 5 |
| | | |
| --- | --- | --- |
| Engine | Engine Type | 1.2l Kappa Petrol |
| | Displacement(cc) | 1 197 |
| | Max. Power(ps/rpm) | 61 kW (83 PS) @ 6 000 r/ min |
| | Max. Torque(kg.m/ rpm) | 113.8 Nm (11.6 kgm) @ 4 000 r/min |
| | Transmission Type | 5-Speed Manual / Smart Auto AMT |
| Suspension | Suspension Front | McPherson strut |
| | Suspension Rear | Coupled torsion beam axle |
| | Suspension Shock Absorber | Gas type |
| Brake | Brake Front | Disc |
| | Brake Rear | Drum |
| Fuel | Fuel Type | Petrol |
| | Fuel Tank Capacity | 37 |
Source: hyundai.com
Conclusion
The Hyundai Exter is a standout option in the compact SUV market, offering a winning combination of powertrain performance, fuel economy, stylish design, interior comfort, and advanced features. With its affordable pricing, Hyundai aims to make the Exter accessible to a broad range of customers, ensuring that they can enjoy the benefits of owning an SUV without compromising on quality or features. Whether it's daily commuting or weekend adventures, the Exter is well-equipped to meet the diverse needs of modern urban dwellers.