The Triumph Speed 400: A Stylish and Affordable Midsize Motorcycle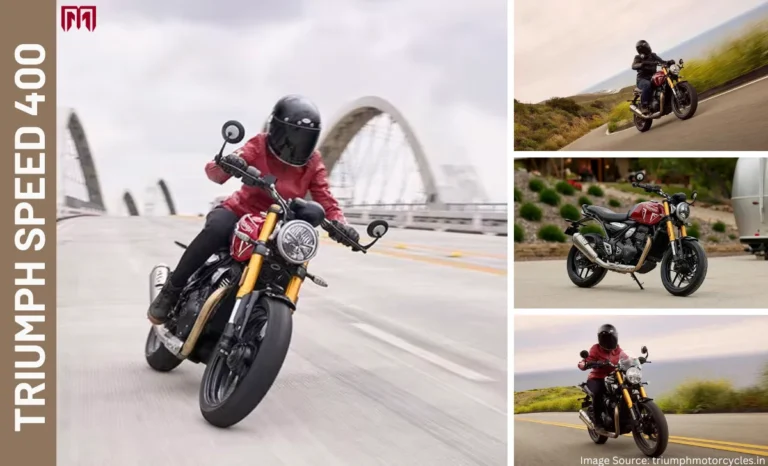 Welcome to our article about the Triumph Speed 400, an attractive and affordably priced midsize motorbike that has taken over the Indian market since it was launched in 2023. In this article, we will look at the essential features, performance, design, cost, and other aspects of this interesting two-wheeler. You've come to the correct spot whether you're thinking of buying a Triumph Speed 400 or just want to find out about the details of it.
Design
The Speed 400 redefines class standards with its timeless Triumph roadster silhouette, stripped-back custom style, and premium finish.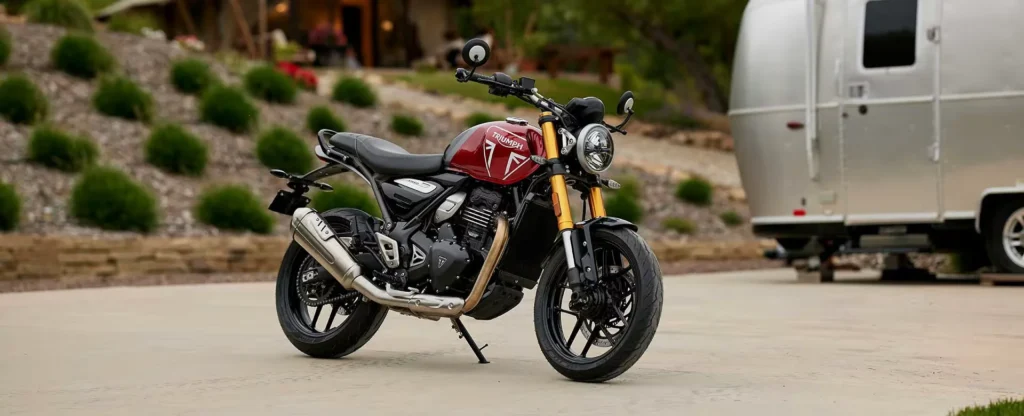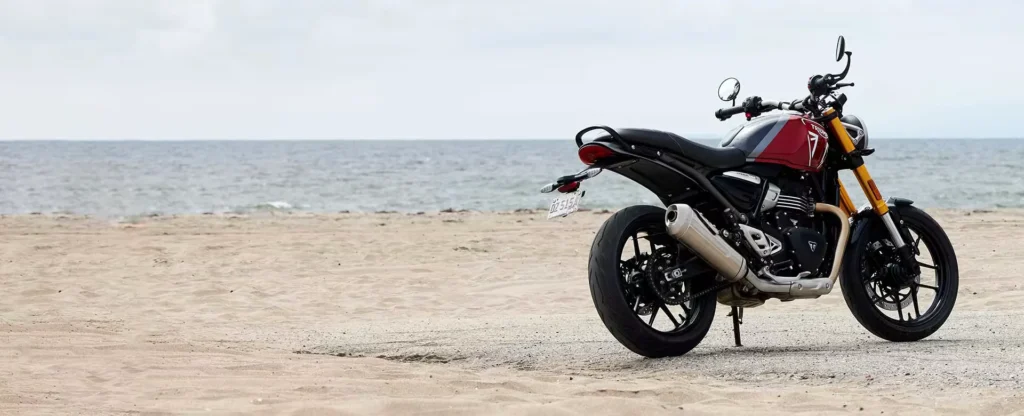 Charm
Experience the genuine essence of Triumph style, exceptional handling, exhilarating performance, and captivating sound with the Speed 400. This motorcycle is the epitome of authenticity.
Control
The Speed 400 sets a new standard for rider confidence with its light, agile, and dynamic handling, making every ride an enjoyable and fun experience.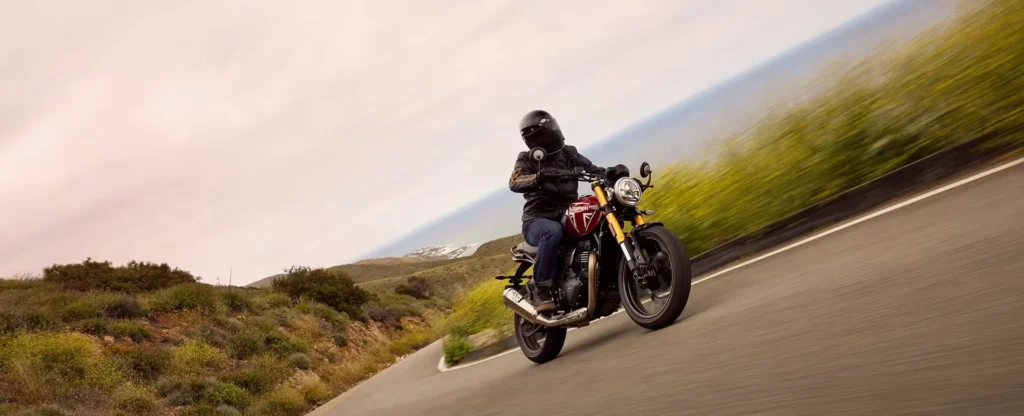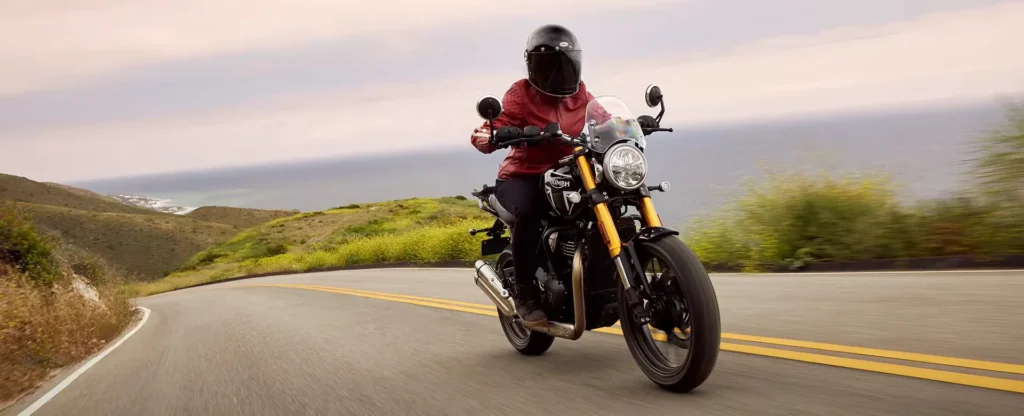 Cost-effectiveness
The Triumph Speed 400 offers incredible value with its high specifications, extended service intervals, and low running costs.
Superiority
The Speed 400 seamlessly combines top-notch engineering and a superior finish, setting new standards in quality.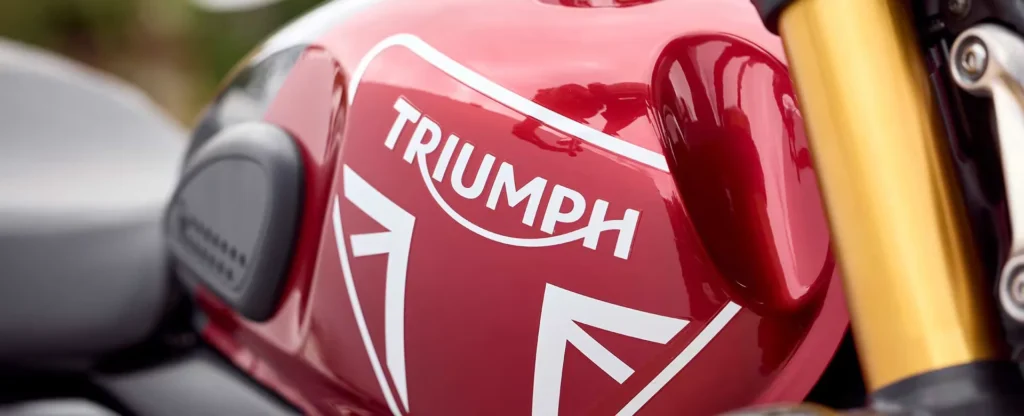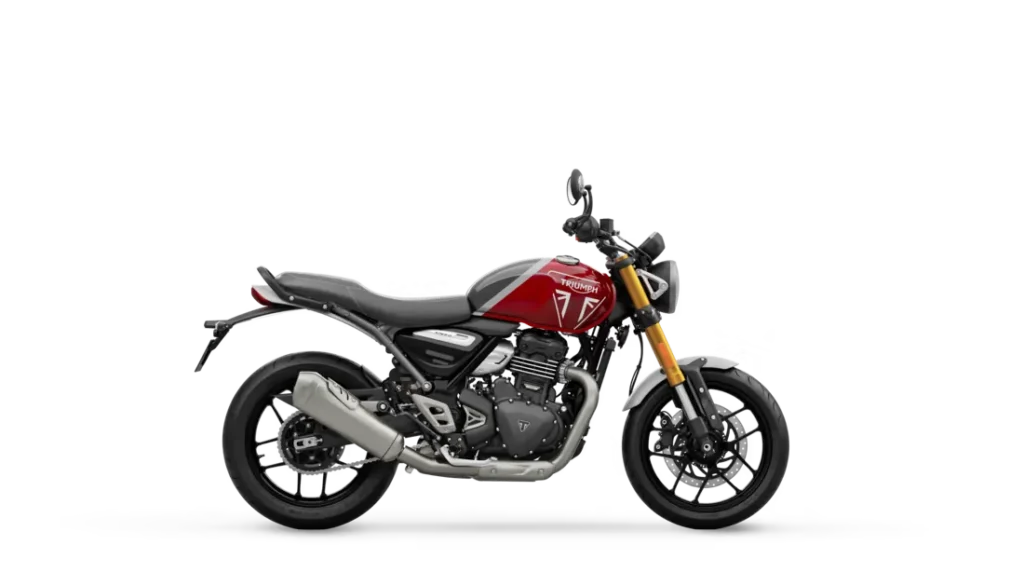 Ex-Showroom Price From ₹ 2,33,000.00
The image source for this article is triumphmotorcycles.in
CONTENTS
Key Features of the Triumph Speed 400
The Triumph Speed 400 boasts several impressive features that set it apart from its competitors. Let's take a closer look at what makes this motorcycle a standout choice:
Powerful Engine: Equipped with a 400cc single-cylinder engine, the Speed 400 delivers 40 PS of power and 37.5 Nm of torque. This engine provides excellent acceleration and performance, ensuring an exhilarating riding experience.
Modern and Sporty Design: With its sleek fuel tank, sharp headlight, and muscular rear end, the Speed 400 boasts a modern and sporty design. It exudes style and captures attention wherever it goes.
LED Lighting: The motorcycle features LED lighting all around, providing enhanced visibility and lending it a premium look. The LED headlights offer excellent illumination for safe riding during night-time or low-light conditions.
Performance and Handling
The Triumph Speed 400 delivers not only in terms of looks but also when it comes to performance and handling. Its powerful engine and well-tuned suspension contribute to an exceptional riding experience. Here's what you can expect:
Smooth Acceleration: The 400cc single-cylinder engine of the Speed 400 is smooth and refined, allowing for seamless acceleration. Whether you're navigating through city traffic or enjoying the open roads, the engine delivers power on demand.
Six-Speed Gearbox: The bike is equipped with a six-speed gearbox, ensuring smooth and precise gear shifts. This enables the rider to effortlessly find the right gear for every situation, further enhancing the overall performance and control.
Comfortable Riding Position: The Speed 400 offers a comfortable riding position, thanks to its well-padded seat and relaxed handlebar positioning. Whether you're embarking on short commutes or long rides, you can expect a comfortable and enjoyable journey.
Responsive Suspension: The suspension system of the Speed 400 is well-tuned to absorb bumps and undulations in the road effectively. It provides a balanced and stable ride, minimizing rider fatigue and delivering confidence-inspiring handling.
Check Harley-Davidson X440 to get more details!
Design
One of the standout features of the Triumph Speed 400 is its captivating design. Combining style with functionality, this motorcycle is a head-turner on the streets. Let's delve into the design elements that make it so appealing:
Sleek Fuel Tank: The Speed 400 features a sleekly designed fuel tank that not only adds to its aesthetic appeal but also offers good ergonomics. It allows the rider to comfortably grip the tank, ensuring a secure and confident riding experience.
Sharp Headlight: The motorcycle sports a sharp and striking headlight that not only illuminates the road ahead but also enhances its overall look. The LED headlights provide excellent visibility, enhancing safety during nighttime rides.
Muscular Rear End: With its muscular rear end, the Speed 400 exudes a sense of power and athleticism. The well-designed tail section further adds to its aggressive and sporty appeal.
Premium Finish: Triumph motorcycles are known for their attention to detail and premium finish, and the Speed 400 is no exception. Every component is meticulously crafted, contributing to the overall quality and durability of the motorcycle.
Triumph Speed 400 Specification:
ENGINE & TRANSMISSION
Type
Liquid-cooled, 4 valve, DOHC, single-cylinder
Capacity
398.15 cc
Max Power
40 PS / 39.5 bhp (29.4 kW) @ 8,000 rpm
Max Torque
37.5 Nm @ 6,500 rpm
Clutch
Analog speedometer with integrated multi-function LCD screen
Gearbox
6 speed
CHASSIS
Frame
Hybrid spine/perimeter, tubular steel, bolt-on rear subframe
Swingarm
Liquid-cooled, 4-valve, DOHC, single-cylinder
Front Wheel
Twin-sided, cast aluminum alloy
Rear Wheel
Cast aluminum alloy 10 spoke, 17 x 3 in
Front Tyre
110/70 R17
Rear Tyre
150/60 R17
Front Suspension
43mm upside down Big Piston forks. 140mm wheel travel
Rear Suspension
Cast aluminum alloy 10 spoke, 17 x 4 in
Front Brakes
300mm fixed disc, four-piston radial caliper, ABS
Rear Brakes
230mm fixed disc, floating caliper, ABS
Instrument Display and Functions
Analogue speedometer with integrated multi-function LCD screen
DIMENSIONS & WEIGHTS
Width Handlebars
814 mm
Height Without Mirror
TBC mm
Seat Height
790 mm
Wheelbase
1377 mm
Rake
24.6 º
Trail
102 mm
Tank Capacity
13 L
Wet Weight
176 kg
Source: triumphmotorcycles.in
Triumph Speed 400 Color Options: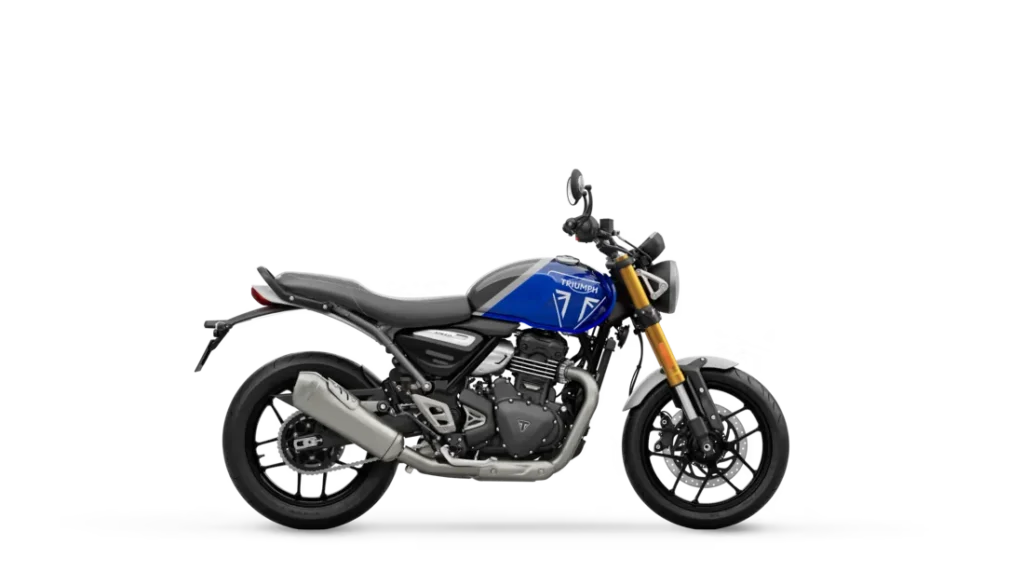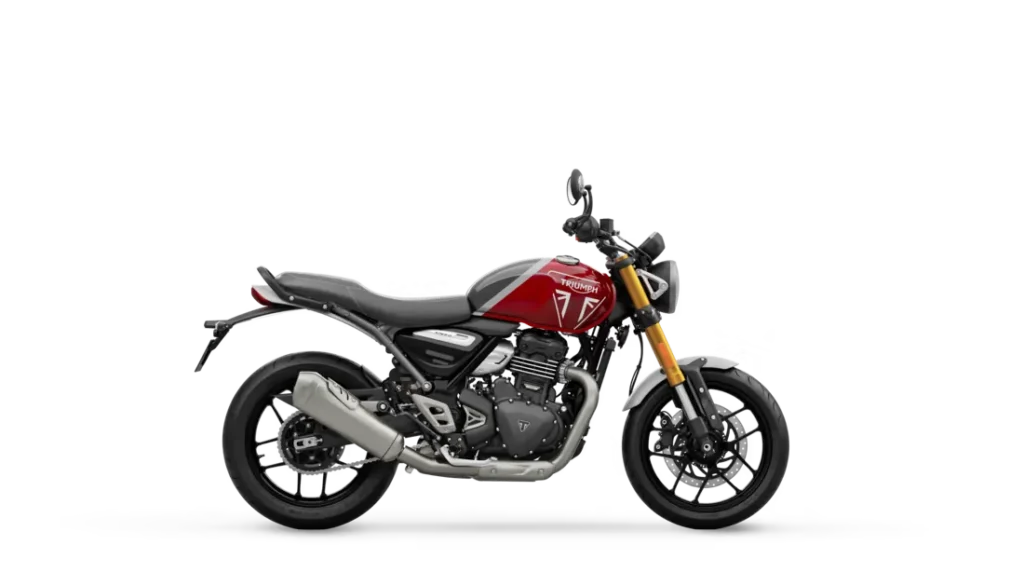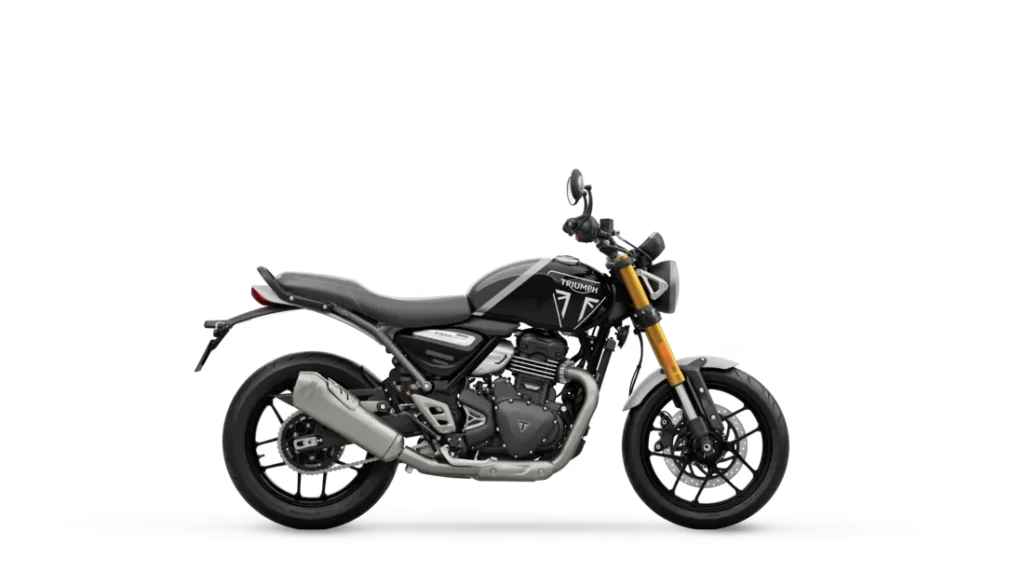 Pricing and Variants
When it comes to pricing, the Triumph Speed 400 stands out as an affordable option in its class. Here are the pricing details for the Speed 400:
The Triumph Speed 400 Standard variant is priced at Rs. 2.33 lakh (ex-showroom). It offers an excellent balance of performance and affordability, making it an attractive choice for riders seeking a budget-friendly midsize motorcycle.
Please note that prices may vary depending on the location and dealership. It's always advisable to check with your local Triumph dealer for the most accurate and up-to-date pricing information.
Conclusion
In conclusion, the Triumph Speed 400 is a stylish and affordable midsize motorcycle that offers a winning combination of performance, design, and value for money. With its powerful engine, comfortable riding position, and modern features, it is an excellent choice for riders of all levels of experience. Whether you're a beginner or an experienced rider, the Speed 400 delivers an enjoyable and thrilling riding experience.
Remember, the Triumph Speed 400 is the motorbike for you if you want a unique blend of style and performance. So don't put it off any longer—set out on a thrilling journey and feel the rush of riding a timeless classic.