The Okinawa Okhi-90 electric scooter has been launched at a price of Rs 1.21 lakh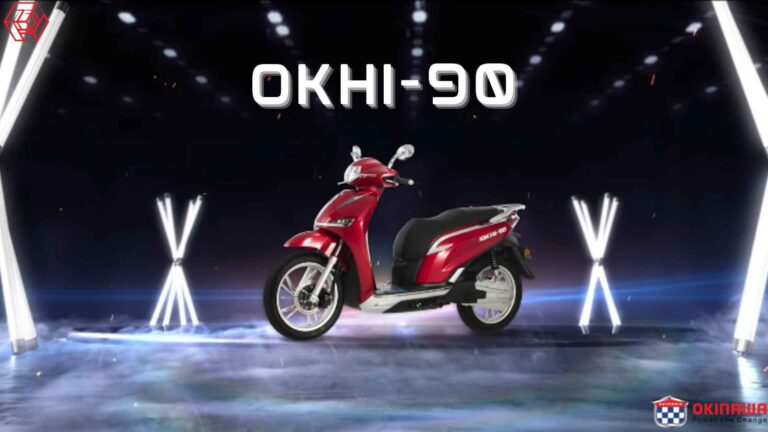 The Gurugram-based firm, established in 2015, sold about 1 lakh units in the current fiscal year, making it the country's second-largest EV scooter manufacturer.
Okinawa Autotech, a manufacturer of electric scooters, just launched the new Okhi-90 e – scooter in India. After the FAME subsidy, the new electric scooter is priced at Rs 1.21 lakh.
Design & Features:
The Okhi-90 has a rather basic look, but the 16-inch alloy wheels are what catches your eye. These really are possibly the largest wheels we've used on a scooter on the market right now. Okinawa believes that the scooter's large wheels will enable it to handle India's notoriously uneven roads. The model's enormous 40-liter cargo area is also a talking point.
The scooter comes with built-in navigation, a digital speedometer, Bluetooth connectivity, keyless entry, a USB port for charging your phone, and call and notification alerts. Customers also can install the Okinawa Connect app, which allows them to lock their scooter in case it is hijacked.
Power & Performance
The Okhi-90 electric scooter is powered by just a 3.8kW motor and has a top speed of 90kph in Sport mode, according to the firm. In Eco mode, the speed is reduced to 60kph. The manufacturer also claims that the scooter can accelerate from 0 to 90 kilometers per hour in 10 seconds.
The motor is powered by a replaceable 3.6kWh lithium-ion battery with a claimed range of 160km. This is significantly greater than the claimed range of Ather 450X, TVS iQube, and Bajaj Chetak.
While a battery is touted to enable faster charging, the business has not disclosed how long it takes to charge batteries. In case you're wondering, Okinawa is providing a three-year warranty just on battery.