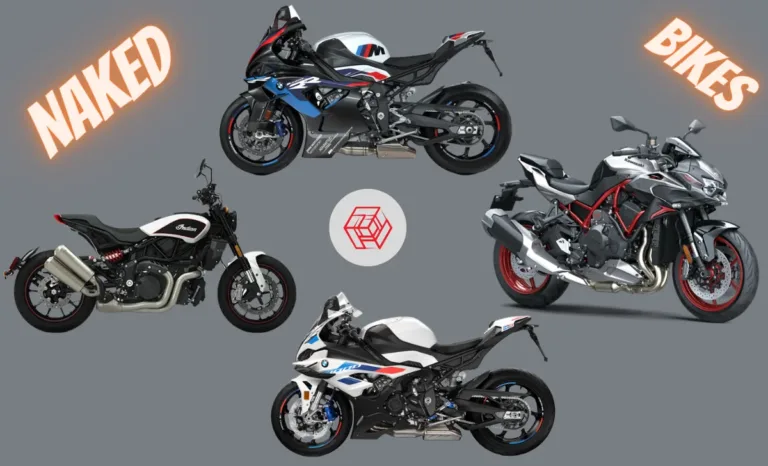 Cool naked motorcycles were created to be a more practical substitute for superbikes in the liter class. It was designed for riders seeking significant but practical performance as well as comfort on the road, something the liter-class superbikes' track-focused motors and dedicated riding positions lacked. Hyper naked was created because enthusiasts demanded more power and performance, as is the case with everything that has wheels. These motorcycles swiftly approached and even crossed the horsepower threshold as the horsepower race intensified.
History Of Naked Motorcycles:
Similar to scramblers, cafe racers, and a variety of other motorcycle subgenres that came before it, manufacturers merely imitated a well-liked customizing trend to create the naked bike class. Fully-faired, road-legal racing replicas saw a huge increase in popularity in the years following the introduction of the first contemporary sportbike in the middle of the 1980s with Suzuki's initial GSX-R750. This was especially true among young, thrill-seeking riders.
Incidentally, youths piloting motorcycles worthy of supercar key metrics did result in a fair number of wrecks. With thrashed bodywork, bent clip-on, limited funds, and a burning desire to ride, many of these bikes' young owners simply removed the damaged fairings, attached to the collection of wide, MX-style bars, tacked just on the cheapest available road-legal headlight, and hit the road. This kind of  bike was named a "Street Fighter."
CONTENTS
10) GSX-S1000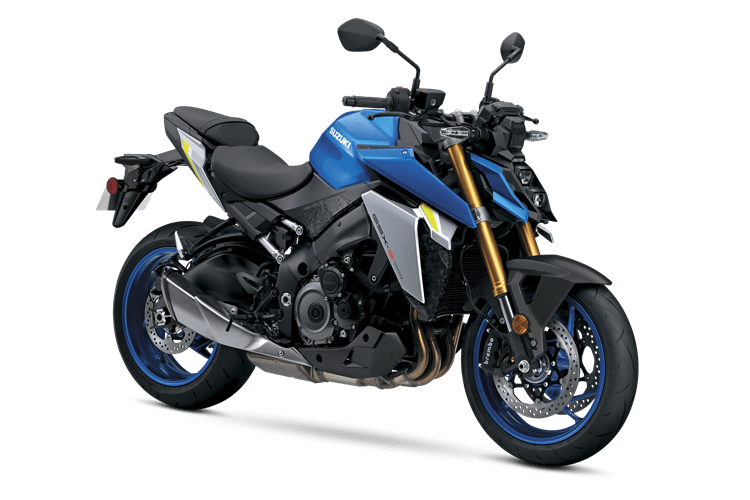 Photo Credit: suzukicycles.com
Speed: 242 km/h
The Suzuki GSX R1000R features a top-notch design that was influenced by the MotoGP motorbike that finished on the podium. This is one of Suzuki's greatest sports bikes. Suzuki has provided the GSX R1000R with superior aerodynamics as well as an aggressive sport bike appearance in addition to the Hayabusa. While keeping a mass-forward design and having enough fairings on each to give it a streamlined appearance, a massive exhaust takes up most of the right-side rear end. This large Gixxer is anticipated to be delivered in two color options with distinct graphics: Metallic Matte Black and Glass Matte Mechanical Grey.
Features of the Suzuki GSX R1000R include the Inertial Measurement Unit (IMU), which controls the ABS and traction control whereas the rider negotiates a curve and eliminates inadvertent wheelies. Other notable features include a completely digital black background LCD multifunctional instrument panel, a fully LED lighting system, Suzuki Bi-Directional Quick Shifting System, and launch control with adjustable traction control.
Suzuki GSX R1000R Performance and Engine This monster is kept ready for takeoff by a 999.8cc inline-four cylinder engine with liquid cooling. Due to Suzuki's continued usage of even firing order engines, its crankshaft continues to produce fewer vibrations than those of its competitors. The GSX R1000R generates 117.6 Nm of torque at 10,800 RPM and 199 BHP at 13,200 RPM. The 200-kilogram superbike is a strong rival in its class thanks to all its incredible power coupled with a six-speed gearbox.
09) Yamaha MT-10 SP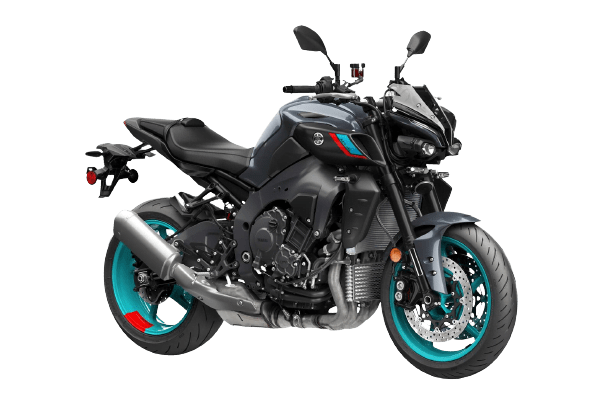 Photo Credit: yamahamotorsports.com
Speed: 250 km/h
The SP model now has an assertive front end with dual LED projector lights and LED DRLs that resemble eyebrows, similar to 2022 MT-10. The gasoline tank has even undergone remodeling. The traction control system, slide control, wheelie control, engine brake control, and four riding modes have all been carried over, as have features like the 4.2-inch color TFT screen.
The modified CP4 engine with a light aluminum forged piston but also offset con rods are also included in a 2022 Yamaha MT-10 SP. The modifications increased the horsepower from 158 to 164 and gave the exhaust system a wilder sound.
The semi-active Ohlins suspension having three damping modes—Sport, Intermediate, and Touring—as well as three manual settings—is the main difference to the top-spec SP model, though. Additionally, the SP receives braided brake lines and a lower-set belly pan for constant braking performance.
Beginning early in the next year, Yamaha will release the MT-10 SP for foreign markets in a Liquid Metal/Raven Black color combination. Despite this, it is doubtful that the motorbike will ever reach Indian markets.
08) Aprilia Tuono V4 Factory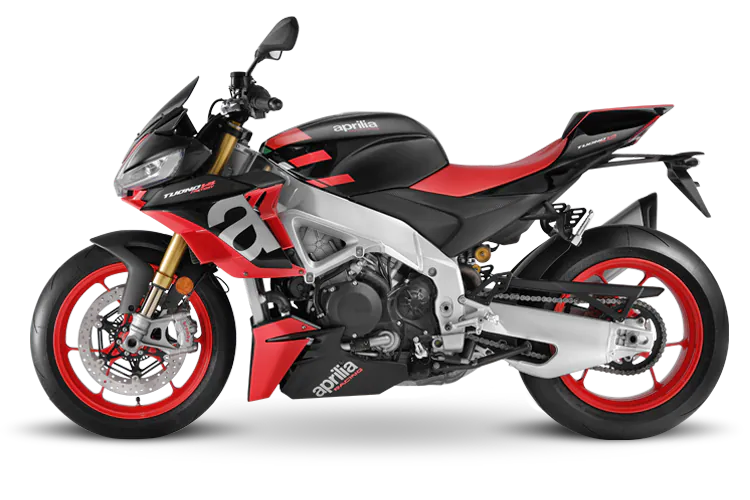 Photo Credit: aprilia.com
Speed: 250 km/h
The new design features sleek twin-pod headlamps in the front, a muscular fuel tank, a windshield, semi-fairing, a step-up seat, and a side-slung exhaust. LED headlights, LED taillights, and a color TFT display are among the features.
Bosch 9.1 MP ABS with cornering function, switchable rear wheel lift-up mitigation, engine mapping (AEM), engine brake control (AEB), traction control (ATC), wheelie control (AWC), launch control (ALC), cruise control (ACC), speed limiter (APT), and six riding modes are among the electronic rider aids (three roads, three track).
The top torque of 121 Nm at 9000 rpm and a maximum power of 175 horsepower at 11350 rpm both meet Euro 5 standards and are further enhanced by a new, lightweight exhaust. The Magneti Marelli 11MP ECU, which is also new, has the ability to calculate data and develop complex algorithms for increased power and performance.
07) Speed Triple 1200 RS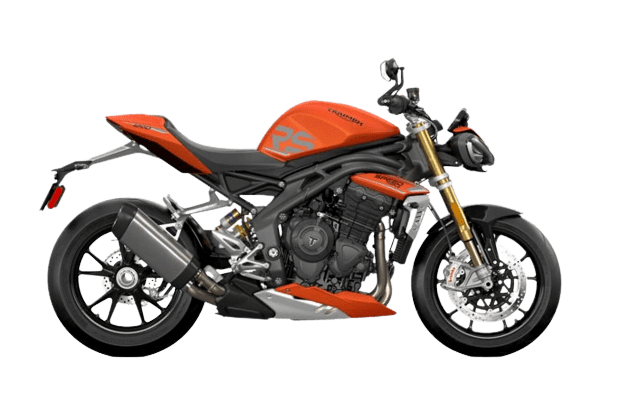 Photo Credit: triumphmotorcycles.in
With the introduction of a 2022 Speed Triple 1200 RS in the nation, Triumph Motorcycles India has upgraded its lineup. Baja Orange is the new paint scheme on the motorcycle's most recent iteration. The Silver Ice and Graphite 'RS' graphics here on the fuel tank go well with the new paint scheme. Along with the new shade, the Triumph Speed Triple 1200 RS is also offered in Sapphire Black and Matte Silver Ice color schemes.
Only the introduction of the new color theme has changed. On either hand, the layout has not changed. Therefore, the 2022 version keeps the angular streetfighter design, which includes a twin-pod headlight with DRL in the shape of an eyebrow at the front, a muscular fuel tank, a rear cowl that matches the engine cowl, a single-sided swingarm, and side-slung exhaust.
The 1,160cc, inline-three-cylinder, liquid-cooled engine is still specified mechanically. The motor is calibrated to generate a maximum torque of 125Nm and 177bhp when it is coupled to a six-speed gearbox. The motorbike also has a rear mono-shock, upside-down front forks, twin front discs, a single rear disc, Brembo-sourced calipers, and 17-inch wheels on both ends. The list of features includes wheelie control, cruise control, quick shifter, slipper clutch, cornering ABS, a five-inch TFT instrument cluster, five riding modes, and full LED lighting.
06) KTM 1290 RR EVO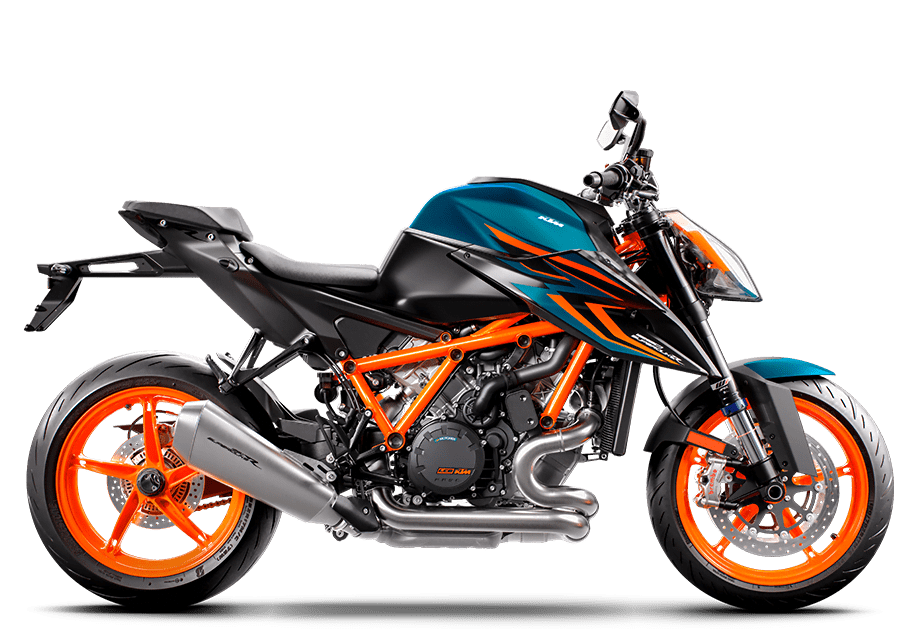 Photo Credit: ktm.com
Speed: 290 km/h
It doesn't happen often that we claim a practically flawless naked bike could be made even better, but KTM thought the already insane 1290 Super Duke R will need a tiny bit extra thrown at it. The 1,301cc LC8 V-twin is still in place, but those Austrians have created a new alloy that really is lighter than the engine in the 2021 model without compromising any power and strength. It continues to produce 180 HP and an insane 104 lb-ft much torque, and its exhaust system is now Euro 5 compliance, giving it a throatier, deeper v-twin burble.
The Semi-Active Technology, or SAT, that KTM likes to refer to as being new in the EVO constantly modifies the front and rear suspension as well as the traction control and stability control in real-time to react to the road beneath the tires as well as the inputs from the riders. If you give it a good helping of the wrist, it will notice if the rear wheel spins up on a patch of cold tarmac and, as an example, will squat the rear for more traction, stop the tire from spinning up and get you safely on your way rather than slipping out the rear and dumping you facefirst into the said tarmac.
As they put it, KTM compares the 1290 Super Duke R EVO to the Super Duke, characterizing it as a cold, methodical predator and pure streetfighter ready to pounce on any other naked that approaches it.
Also Read: Best 7 seater car under 25 lakhs
05) V4CR Norton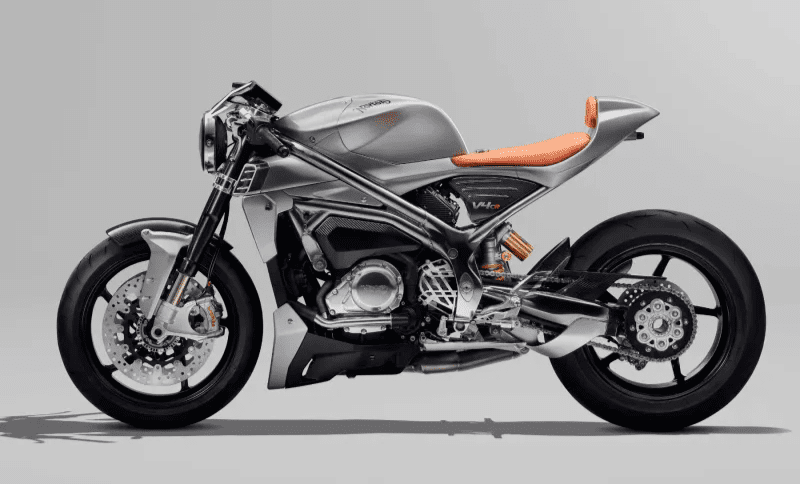 Photo Credit: nortonmotorcycles.com
After previously showcasing the revised V4SV superbike, TVS-owned Norton Motorcycles has now unveiled a concept for a cafe racer based on the same motorcycle. Since April 2020, when British motorcycle manufacturer Norton Motorcycles was acquired by TVS, the business has been working to address many of the significant problems with the V4 Superbike, leading to the recently debuted V4SV. This brand-new V4CR is the first new item to be displayed under new ownership.
The fact that Norton refers to this motorcycle as a prototype rather than a concept indicates that it will eventually go into production. The Cafe Racer is a hand-built motorbike, just like the V4SV superbike, that uses exotic components and will fetch an exotic price; the business hasn't yet commented on the costs for its new bikes.
The Cafe Racer's fuel tank and body panels are made from carbon fiber while the swingarm and chassis are polished billet aluminum units. Its 1,200cc V4 engine is in the same state of tune as the SV and produces 185hp of peak power. Norton hasn't revealed any other details just yet, but the images show the bike running premium Brembo brakes and what appears to be Ohlins suspension.
04) kawasaki ZH2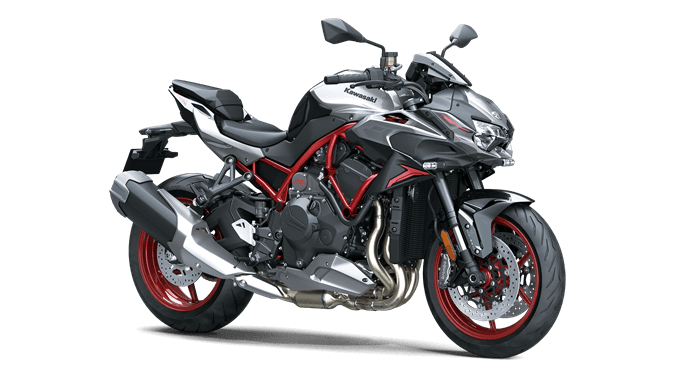 Photo Credit: kawasaki.com
Speed: 280 km/h
The motorcycle sports Kawasaki's Sugomi design and is equipped with technologies including Bluetooth-enabled colour instrumentation and full-LED lighting. The Kawasaki RIDEOLOGY THE APP is compatible with the display. Among the few items that use the "Kawasaki river mark" are the Z H2 and Z H2 SE. Only models with historical value are eligible for the logo.
Around a trellis frame, the Z H2 series is constructed. The suspension components of the standard model include a Showa rear mono-shock and front SFF-BP fork. The KECS (Kawasaki Electronic Control Suspension) with Showa's Skyhook Technology is a feature of the SE model, on the other hand. The SE variant also has a high-end braking system that employs Brembo-style front brake calipers. The front brake calipers on the base model, in contrast, are Brembo M4.32.
The electronic rider aids include a cruise control system, Kawasaki Traction Control, Cornering Management Function, Kawasaki Intelligent Anti-lock Brake System, three riding modes (Sport, Rain, and Road), three power modes (Full, Medium, and Low), and three power modes (Full, Medium, and Low).
A 998cc, inline, four-cylinder, liquid-cooled engine that produces 137Nm of maximum torque at 8,500 rpm and 197.2bhp of maximum power at 11,000 rpm powers the supercharged roadster. A six-speed transmission with an assist and a slipper clutch is connected to the motor. Additionally, the gearbox has a bidirectional quick-shifter. Kawasaki asserts that supercharged engines have simple power delivery and plenty of power.
03) S 1000 RR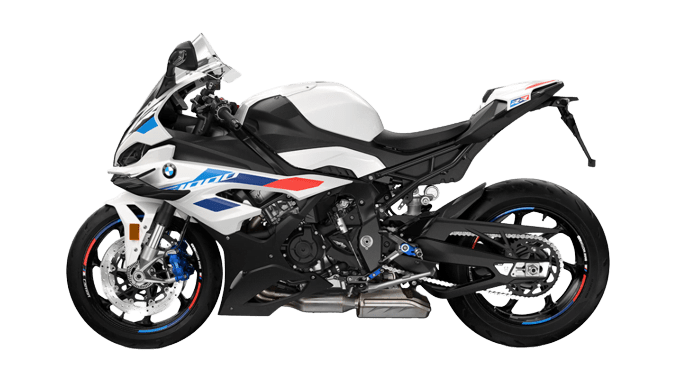 Photo Credit: bmwmotorcycles.com
Speed: 299 to 303 km/h
BMW always packs a tonne of electronic sophistication into their motorcycles, and the S1000RR is no exception. A Bluetooth-capable full-color TFT instrument console is included with the motorcycle. Additionally, it has a six-axis IMU, adjustable engine braking, dynamic traction control, hill-start help, wheelie control, launch control, and ABS.
The 2019 S1000RR is slimmer and 1.3kg lighter in terms of size. In addition, it is both bigger and longer than the previous model, with a wheelbase of 1,441mm and an overall width of 848mm. BMW also decreased the seat height from 826mm to 824mm. Additionally, the lighter engine components and exhaust system make the new S1000RR 11kg lighter than the previous model.
This is a brand-new 999cc inline-four cylinder engine. The engine generates 113Nm of torque at 11,000 rpm and 204bhp at 13,500 rpm. The unit is pre-installed with a six-speed gearbox that has a bi-directional fast shifter. Additionally, it has BMW's ShiftCam technology, which modifies the intake side valve timing and strokes.
02) Streetfighter V4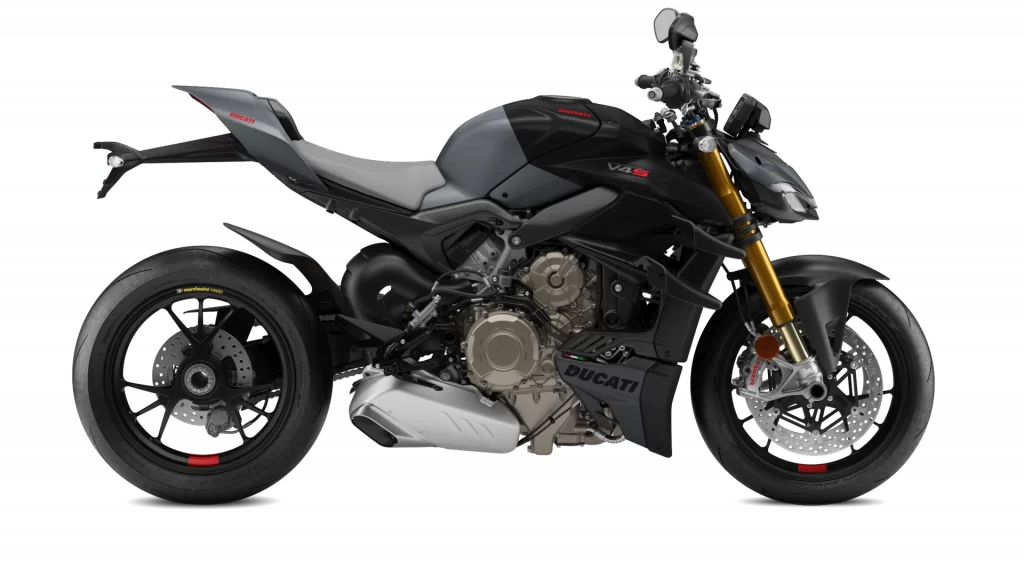 Photo Credit: ducati.com
Speed: 295 km/h
In the Indian market, Ducati has introduced the BS6-compliant Streetfighter V4 and the Streetfighter V4S. The Panigale V4 is the flagship naked roadster's foundation, but the Streetfighter V4 has upright ergonomics made possible by a high, wide bar and a moderate footpeg position.
A V-shaped LED DRL in the headlight, an LED taillight, a split-style seat, and a single-sided swingarm design are among the aggressive stylistic cues. The Ducati Corse aerodynamicists' "biplane" wings are likewise fitted to the Streetfighter V4. According to claims, these winglets produce 28 kg of downforce at 270 km/h. There are two color options available: Ducati Red and Dark Stealth, and it weighs 180 kg.
The Panigale V4 and the new Ducati Streetfighter V4 models share the same Desmosedici Stradale V4 engine. The 1,103cc, 90-degree V4 engine produces 123Nm of maximum torque at 9,500 rpm and 205bhp of maximum power at 12,750 rpm when it is connected to a six-speed gearbox. In addition, the business also provides the full-racing Ducati Performance exhaust from Akrapovic. The output of power and torque is further increased by the Akrapovic system to 217bhp and 130Nm, respectively. Additionally, the motorcycle's weight is decreased by six kilograms by the exhaust system.
A V-shaped LED DRL in the headlight, an LED taillight, a split-style seat, and a single-sided swingarm design are among the aggressive stylistic cues. The Ducati Corse aerodynamicists' "biplane" wings are likewise fitted to the Streetfighter V4. According to claims, these winglets produce 28 kg of downforce at 270 km/h. There are two color options available: Ducati Red and Dark Stealth, and it weighs 180 kg.
01) M 1000 RR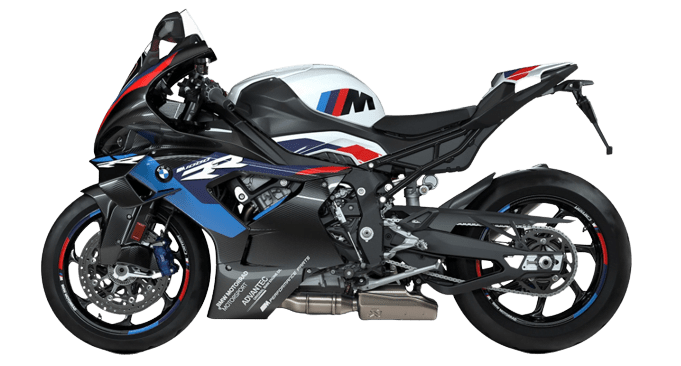 Photo Credit: bmwmotorcycles.com
Speed: 306 km/h
This M 1000 RR would be imported in its fully assembled state (CBU). There are three color options for the motorcycle: Racing Red, Racing Blue Metallic, and Light White. The M 1000 RR features a high windscreen and clear-coat carbon M winglets as styling cues for improved aerodynamics. A reworked chassis design, strong integrated LED light units, heated grips, a 6.5-inch TFT display with OBD interface, high-performance M brakes, M carbon wheels, a lightweight M battery, and other features are also advantageous to the motorcycle.
A 999cc, water-cooled, inline four-cylinder engine with BMW ShiftCam technology is among the mechanical features. The motor, which is connected to a six-speed gearbox, is calibrated to generate 113Nm of maximum torque at 11,000 rpm and 209bhp of power at 14,500 rpm. The engine has updated parts, more compression, and an exhaust system made of lightweight titanium. The acceleration from 0 to 100 kilometers per hour (kph) takes 3.1 seconds, and the top speed is 306 kph.
The Riding Modes Pro (Race Pro 1-3) are optional additions, while the four normal riding modes (Rain, Road, Dynamic, and Race) are accessible as standard features. Access to settings for the engine (throttle), engine brake, traction control, wheelie control, ABS, ABS Pro, launch control, and the pit-lane limiter is provided through the Riding Modes Pro. The business will also provide a selection of add-on parts and accessories for the M 1000 RR.