The NEXT BIG THING, the MediaTek Dimensity 9000, is explained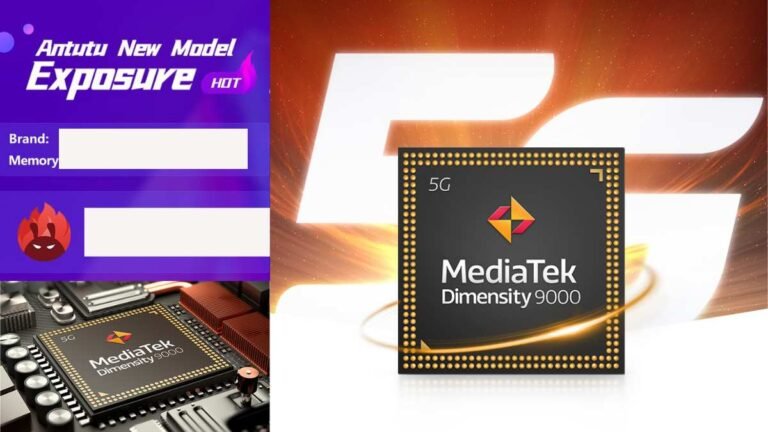 Overview
MediaTek recently launch the Dimensity 9000 processor sets the technical standards by implementing cutting-edge world 1st TSMC N4 (4nm-class) manufacturing, the most powerful and energy-efficient chip-making process ever. MediaTekDiemensity 9000 is a maximum gain processor in recent years.
Let's start with taking a look at what's on offer with the MediaTek Dimensity 9000 here are the raw specs this is an 8 core processor we have 4X Cortex-A510 clock speed at 1.8GHz these are the power efficient cores than we have 3X Cortex-A710 clock speed at 2.85GHz it mean the big cores there is 1X Cortex x2 core clocked at 3.05GHz now this is the prime core the one that's going to be used when single core performance is needed to understand why this is a huge deal instead don't look at the clock speed instead look at the core stem cells these are all cores that are built on the Armv9 architecture which succeeds Armv8 that came out all the way back in 2011.
What this means to the end consumers, but this time when youe hear that you're still going to get more significant now for example snapdragon 865 it has one higher clock Cortex A77 prime three regular cortes A77 as you know your regular big cores and then three cortex A55 cores as little cores the ones for power efficiency now from there we went to having a dedicated prime core cortex x1 three cortex A78 and four cortex A55 cores for the snapdragon 888 given it's all Armv8 the performance gain officially it wasn't all that it was supposed to be around 15% for CPU.
Now here the move from A78 to A710 and A55 to A510 and x1 to x2 with these the gains are expected to be a whole lot more x1 to x2 for example there is a 35% increase in performance expected and this is also the first TSMC 4 nanometer class chip so the transistors are gonna be more densely packed and that means lesser heat and 37% power efficiency is the claim from MediaTek.
Now, A78 to A710 mediatek hasn't released any official claims here but it we go. What Arm has to say this is a 10% gain, but on the same which basically means if you have a A78 that's build on five nanometer and compare it to a similarly clocked A710 that's also built on five nanometers than you're going to see a 10% improvement in performance at the same time of 30% more power efficiency, but this is the A710 was on five nanometer here mediatek is using the four nanometer.
So expect the number to be a little but better the biggest gains that's going to be with a little course in the last four years the big cores have been tinkered around with almost every year we has the A75 followed by the A76 followed by the A77 and the A78 plus x1 combination but the little course they remained unchanged its been a A55 throughtout you go back to 2017 what was the little course a A55 in 2019 a A55 in 2020 and 2021 now still A55 now given this is the first time in four whole years that Arm redesigned the little course we have huge gains 35% performance while also being 20% more power efficient now all this is just for the CPU if you think that's it.
GPU
I mean be perepared for more surprises the GPU MediaTek here has posted claims directly comparing it with the qualcomm snapdragon 888 the expectation with this Mali-G710 GPU is a 35% percent improvement in performance and 60% improvement in power efficiency compared to this year's at bringing rate racing on vulkan support.
Bluetooth
Now that's not all we have more firsts the dimensity 9000 is the first chip to provide support for bluetooth 5.3 this is important since bluetooth 5.3 is what brings to audio, while we've had classic or low energy bluetooth coexisting on our phones when we listen to music or call we use a classic bluetooth this comes with better range higher data and also higher power consumption.
Now when we pair a fitness tracker to our phone that is not going to be using classic bluetooth, but instead using a low energy radio bluetooth the range on this isn't that high data throughput ins't that high agin but the power efficiency it consumes a less power and most important for a fitness tracker so the power consumption here is a fraction of what classic bluetooth needs with audio.
Extra Information
Is huge the bluetooth 5.3 is the first strp and adoption for it. Now apart from this we same other interesting improvement wi-fi 6c support a new ISP that can theoretically capture 4K HDR video from three cameras which again is industry first and so support for up to world's 1st 320 MP capture as well we support for the new LPDDR5X 7500Mbps ram taking about the new AI processing unit is supposed to be performing 4x better than the last one more interestingly mediatek claims this APU the AI processing unit beat a Google Tensor chip by 16% given all these first it seems for the first time mediatek seems to have a genuine flagship chip capable.
Let's Check the Specs for Dimensity 9000
MediaTek Dimensity 9000
CPU
World's 1st New Armv9 Architecture
1x Arm Cortex-X2 3.05GHz
3x Arm Cortex-A710 2.85GHz
4x Arm Cortex-A510 1.85GHz
8MB L3 + 6MB System-level cache
GPU
World's 1st Arm Mali-G710 MC10
Architecture
World's 1st TSMC 4NM-Class Smartphone chip
Display Support
180Hz FullHD+
Image Processing
Most Powerful 9Gpixel/s ISP
World's 1st simultaneous triple camera 18-bit HDR video recording (three cameras recording with three exposures per frame)
World's 1st 320MP camera support for smartphones
AI Power
Up to 4X power efficiency upgrade vs last generation
Leading performance in AI
Ram Support
LPDDR5x 7500Mbps support
Modem
3CC Carrier Aggregation (300MHz) 7Gbps downlink – incredible peak performance exclusively from sub-6GHz
World's 1st R16 UL Enhancement – the only 5G smartphone modem
to support R16 UL Tx Switching for both SUL and NR UL-CA based connections
Leading MediaTek 5G UltraSave 2.0  – new generation power saving enhancement suite
Connectivity Option
World's 1st Bluetooth 5.3 support in smartphones
Wi-Fi 6E 2×2 (BW160): up to 2X better performance efficiency than
previous generation and support for the latest 6GHz connectivity
Bluetooth LE Audio-ready technology with Dual-Link True Wireless Stereo Audio
New Beidou III-B1C GNSS support
MediaTek Dimensity 9000 Performance Scores Revealed
Recently, the Antutu backdoor data revealed the performance score of MediaTek's Dimensity 9000 a new flagship SoC from MediaTek built on TSMC's 4nm technology.
Antutu reports an overall performance score of 1,007,396, making this the first SoC to reach the 1,000,000 milestones in the world of Android mobile phones.
The performance number is much higher than the top-performing Snapdragon 888 Plus on the Android platform, which has an average performance score of 850,000. In comparison, the Dimensity 9000 grade is 17.6 percent greater than the top, making it MediaTek's most remarkable flagship SoC in record.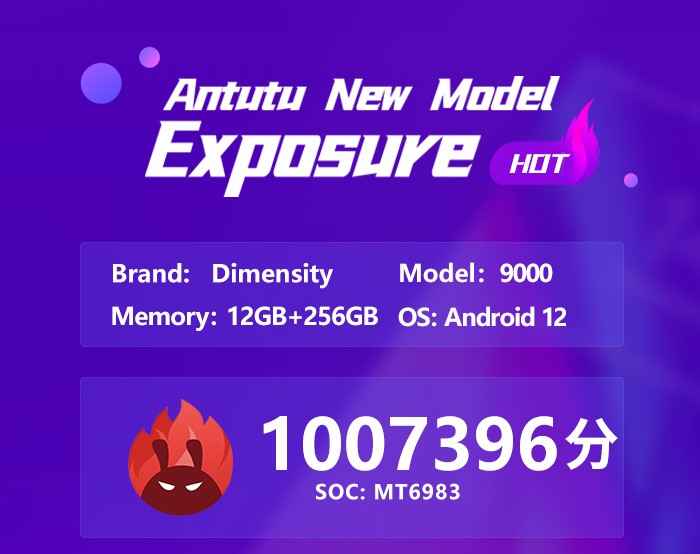 More details click here
---
What qualcomm has to offer with the recent failures of exe news and the situation that high silicon found itself in definitely. When it comes to offering Qualcomm competiton in the flagship category here's the dimensity 9000 does just that we know for sure one phones with dimensity 9000 start shipping in the first quarter of 2022.
So I found this development very interesting and feel dimensity 9000 is the next big thing. Now if you have any question or feedback leave a comment down below.
Also Read:
Qualcomm snapdragon 778g vs Dimensity 1200