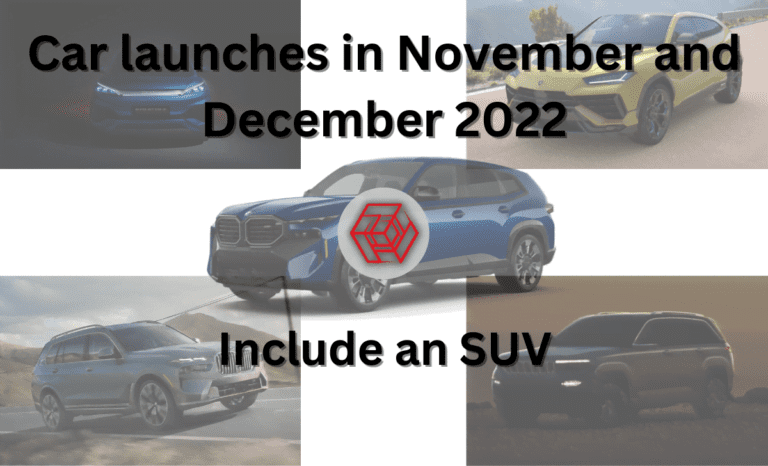 In November and December 2022, ICE, hybrid, and pure-electric variants of automobiles and SUVs will be available. Some of them are brand-new for the Indian market, while others are facelifts and newer models. November through December 2022 is predicted to see the introduction of at least 10 new cars. Sales will increase as a result of these new products, and the financial results for FY22–23 will reflect this. In the premium class, new launches predominate. The new vehicles and SUVs to be available during November and December 2022 are listed below.
Coming up soon SUVs and electric vehicles for November to December 2022:-
Pravaig electric SUV
On November 25, the Bengaluru-based EV startup Pravaig will reveal its electrical SUV. The business had previously unveiled the Extinction electric vehicle earlier in 2020. The Pravaig electric SUV's major features include a top speed of more than 200 km/h, a range of more than 500 km, and fast charging.
BYD Atto 3
The Atto 3, which was just launched, is BYD's second electric vehicle in India. The release of prices is anticipated for November. Atto 3 produces 201 horsepower and 310 Nm thanks to a front-mounted permanent magnet synchronous electric motor. Its 521 km range has been approved by ARAI.
Mercedes-Benz EQB
Following the introduction of the EQC and EQS, Mercedes-Benz will introduce the seven-seat EQB electric SUV. By the end of 2022, its debut is anticipated. India's powertrain options have not yet been verified. A dual-motor 300 4Matic with 228 horsepower and a dual-motor 350 4Matic with 292 horsepower are available options in international markets. According to the WLTP standard, the certified range for the top-end variant is up to 595 kilometers.
ICE and hybrid vehicles coming out in November–December 2022:-
Toyota Hycross Innova
Innova's latest generation will debut from Toyota in the second half of November. A petrol hybrid engine is one of the major upgrades. Additionally, the well-known MPV will switch from a ladder frame to a monocoque chassis. As opposed to the RWD setup of the current Innova Crysta, it will sport an FWD setup. Later on, Hycross' Maruti sibling will join.
Check the article: On November 25, Toyota Innova Hycross India will debut
MG Hector
Facelift for the MG Hector By the end of November, the MG Hector makeover is anticipated to go on sale. Additionally, several high-end technologies like an ADAS system and a 14-inch touchscreen infotainment system are anticipated. The available powertrains will be the same as before.
Jeep Grand Cherokee
Set to make its premiere on November 11, the Jeep Grand Cherokee can only be powered by a 2.0-liter turbocharged gasoline engine. It is connected to an automatic transmission with 8 speeds. The SUV will have four terrain settings—Auto, Mud/Sand, Snow, and Sport—and four-wheel drive. In the same way that Compass, Meridian, and Wrangler are assembled there, so will Grand Cherokee.
Mercedes-Benz GLB
Early December is the planned debut date for the Mercedes-Benz GLB, which will be imported as a CBU from Mexico. One possible powerplant is a 1.3-liter turbo-petrol engine with a 7-speed dual-clutch transmission and 163 horsepower. The 190 horsepower 2.0 diesel engine might also be paired with an 8-speed dual-clutch transmission. The GLB SUV from Mercedes will become the second 7-seater SUV available in India after the GLS.
BMW X7
Facelifted BMW X7 will make its debut in the second week of December. The BMW X7 facelift, which was introduced earlier this year, features an updated front design. It has the brand-new split headlight design from BMW. The SUV is equipped with the curved infotainment system from BMW, which boasts a 14.9-inch touchscreen and just a 12.3-inch digital instrument panel. Optional powertrains include the xDrive 40i & xDrive 30d, which produce 380 and 352 horsepower, respectively. Both powertrains share all-wheel drive, a 48V mild-hybrid technology, or 8-speed automatic transmission.
BMW XM
The September-debuted BMW XM will make its way to India around the middle of December. It will include a plug-in hybrid powertrain, making it the first M vehicle to do so. An integrated electric motor produces 194 horsepower, compared to the 4.4-liter V8, dual turbo engine's 483 horsepower. The total output is 653 horsepower and 800 Nm of torque. The BMW XM has an electric range of 80 kilometers.
Lamborghini Urus Performante
Urus Performante by Lamborghini The Lamborghini Urus Performante was unveiled in August, and it will go on sale in December. It has a modernized 4.0-liter, twin-turbocharged V8 engine and makes 666 horsepower and 850 Nm.