Triumph Speed 400 vs KTM 390 Duke: which is better?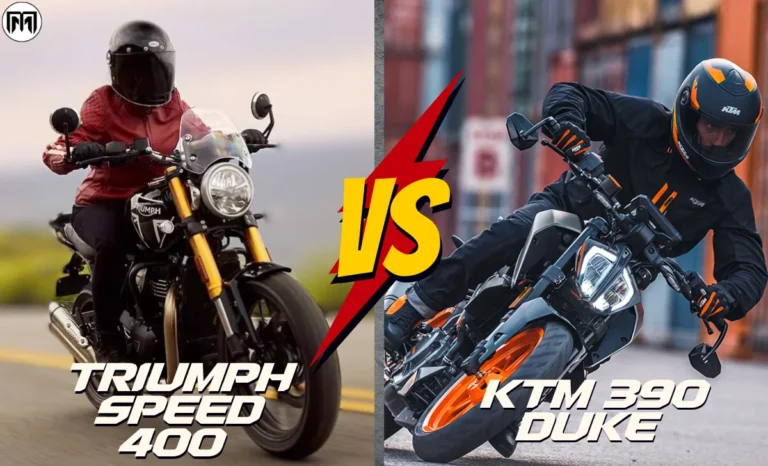 When we first rode the new Triumph Speed 400 in isolation, we couldn't help but notice some striking similarities to the KTM 390 Duke. The quickness, agility, sound, and slimness between the legs were among the features that seemed parallel. Intrigued by these resemblances, we decided to put the two bikes together for a back-to-back test. The results were surprising, as it became evident that despite certain similarities, the Triumph Speed 400 and KTM 390 Duke are actually very distinct motorcycles, each possessing its own unique character.
:::::Get more detail about Triumph Speed 400:::::
CONTENTS
Power and Performance Comparison
The engine capacity of the Triumph Speed 400 is slightly larger at 398cc, while the KTM 390 Duke comes with a 373cc engine. Surprisingly, despite its smaller engine, the KTM produces more peak power at 43.5hp compared to the Triumph's 40hp. The torque figures are nearly identical, with the Triumph generating 37.5Nm and the KTM producing 37Nm. However, the Triumph's peak torque is delivered at lower revs, which affects the bikes' performance differently.
KTM 390 Duke Performance
When riding the KTM 390 Duke, especially at lower revs, it can feel somewhat lethargic and lacking in power. It demands a considerable amount of throttle to maneuver, and at low speeds, it tends to feel clattery and judder. The engine truly comes to life only from around 4000rpm onwards, with a noticeable improvement in performance as the tachometer climbs higher. The real excitement kicks in when the revs reach 8000 to 10,000rpm, delivering a thrilling rush.
Triumph Speed 400 Performance
On the other hand, the Triumph Speed 400 exhibits a different behavior with its motor. The engine's strength lies in its tractability and mid-range power. Right from idle, it feels smooth, willing, and eager, happily pulling at low RPMs even in city conditions with minimal throttle inputs. As the revs climb to around 3 to 4 thousand RPM, it becomes even more lively and surges forward with enthusiasm. It delivers strong performance until about 7 to 7.5 thousand RPM, gradually tapering off as it approaches the 9.2k RPM redline.
Real World Usability: In-Gear Acceleration
While the KTM 390 Duke is quicker from 0-100kph by over 1 second, the in-gear acceleration tests reveal a different story. Surprisingly, it was the Triumph Speed 400 that consistently outperformed the KTM in these tests. This indicates that Triumph's powerband is more accessible, allowing riders to make better use of the performance in real-world situations. With the Triumph, riders are less likely to require downshifts when overtaking or claiming gaps in traffic, making its performance feel effortless and more practical.
Fuel Efficiency Comparison
Despite having a slightly larger engine, the Triumph Speed 400 manages to be more fuel-efficient than the KTM 390 Duke. The reason behind this lies in the way the Speed's engine delivers power. It requires less throttle and revs to maneuver, resulting in better fuel economy compared to the KTM.
Pricing and Features
At Rs 2.33 lakh, the Triumph Speed 400 presents an incredible value proposition, offering remarkable capability at an unbelievably competitive price point. On the other hand, the KTM 390 Duke is currently priced at Rs 2.97 lakh, over Rs 60,000 more expensive than the Triumph. This increase in price has been steady over time. Despite their different prices, each bike has a special set of features.
Triumph Speed 400 Features
The Triumph Speed 400 boasts a simpler dashboard with smart digi-analog clocks. While lacking Bluetooth connectivity, it compensates with the inclusion of traction control, a feature missing in the KTM.
KTM 390 Duke Features
In contrast, the KTM 390 Duke comes with some additional features such as adjustable levers, a bi-directional quick-shifter, and a Bluetooth-equipped TFT display. These extras enhance the bike's appeal and appeal to tech-savvy riders.
Choosing Between Character and Excitement
When deciding between the Triumph Speed 400 and the KTM 390 Duke, it all comes down to individual preferences and priorities. The KTM undeniably offers more character and excitement, particularly with its high-RPM rush and thrilling performance in the upper rev range. However, the Triumph impresses with its tractability, mid-range power, and ease of use in real-world scenarios.
Keep in mind that KTM has a brand new 390 Duke model on the horizon, which promises significant updates. This upcoming release may sway some potential buyers, so it's worth considering if you're on the fence about which bike to choose.
Rating of Triumph Speed 400 & KTM 390 Duke
| | | |
| --- | --- | --- |
| | Triumph Speed 400 | KTM 390 Duke |
| Power and Performance | 4 | 4.5 |
| Real World Usability | 4.5 | 3.5 |
| Fuel Efficiency | 5 | 3.5 |
| Pricing and Features | 4.5 | 4.5 |
| Overall | 4.5/5 | 4/5 |
In conclusion, the Triumph Speed 400 and KTM 390 Duke may share certain similarities, but they are distinct bikes with their own set of characteristics. While the KTM excels in excitement and high-RPM performance, the Triumph offers a more accessible powerband, better fuel efficiency, and an incredibly competitive price. So, whether you crave excitement or practicality, both bikes have something unique to offer, catering to different riders with different preferences.