Triumph has announced limited edition Street Twin EC1, Rocket 3 GT 221, and R 221 models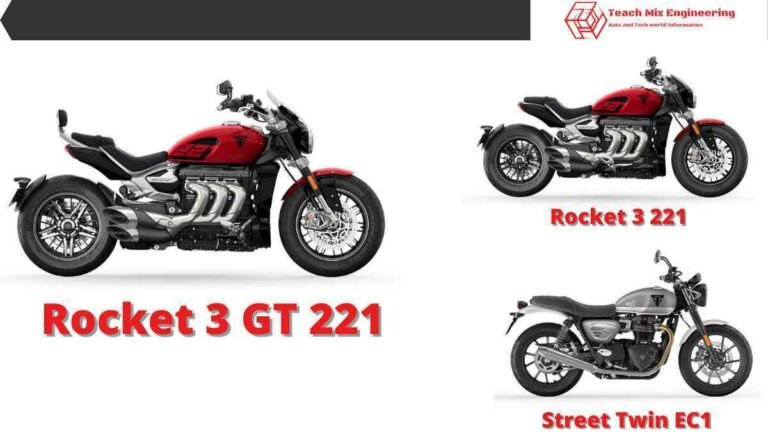 STREET TWIN EC1 SPECIAL EDITION:
The paint job on this limited-edition Triumph Street Twin EC1 is inspired by East London's custom classic motorcycle culture. In reality, the area's postcode is EC1, which is how this limited-edition motorbike gets its moniker.
The Street Twin EC1's tank now comes in two new dual tone colours: Matt Aluminum Silver and Matt Silver Ice. The new EC1 logo and insignia, as well as the delicate, hand-painted silver coach lining, contribute to the aesthetic attractiveness. The side panels and mudguards are painted in a similar silver colour.
The engine, wheels, mirror, and headlight bowl are all blacked out, so these silver accents stand out. There are no modifications in terms of mechanics. The bike is driven by a 900cc twin-cylinder engine that produces 65 horsepower and 80 pound-feet of torque.
LIMITED EDITION TRIUMPH ROCKET THREE R AND ROCKET THREE GT 221:
The Triumph Rocket three lineup is likewise getting a unique version makeover. The 221 unique versions is known as after the Rocket three`s 2,458cc engine, which promises 221 Nm of top torque.
The gas tank of the bikes is a beautiful Red Hopper colour that contrasts with the black facet panels and rear bodywork. The headlight bowl, flyscreen, and radiator cover also are black. A exclusive 221 picture runs over the tank's knee recesses, at the same time as some other set of pics runs throughout the tank's top, representing the Rocket three's actual characteristics – 2458cc engine, 110.2mm bore, and 85.9mm stroke, 167hp and 221Nm.
The relaxation of the mechanicals, such as the electronics suite, are same to the ones observed on ordinary versions.