Sony has a 445W Sound 3D system for the Mahindra XUV700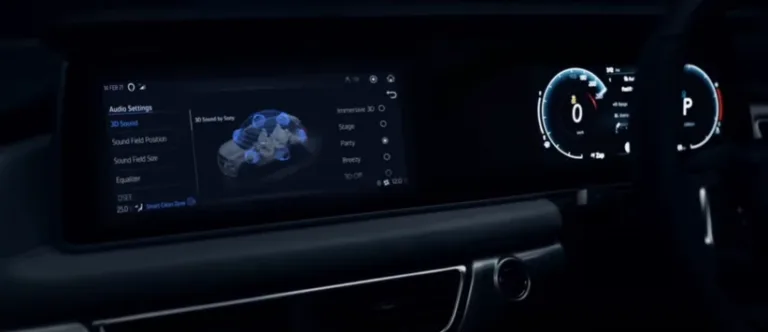 Mahindra XUV700 is a big upgrade and the most powerful SUV in Mahindra, they provide top-level features like a big sunroof and long-range headlights and etc., The Mahindra XUV700 will debut in August 14 and we'll take a close look at the SUV's sound system.
Mahindra has confirmed there is a Sony 3D sound system for the XUV700, but Sony has shared details on the system. The XUV700 has ceiling speakers. The 445W system includes speakers, amplifiers, and subwoofer. World premiere this Saturday. Reviews will appear next week.
Sony 3D Sound Detail
Sony says the XUV700 will be the first vehicle in India to feature world-class 3D audio technology. The 445W system consists of 12 dedicated speakers and a 13-channel amplifier with a subwoofer in the cockpit. You can expect it to be placed in public areas such as doors, dashboard, and trunk, but spy footage reveals that the XUV 700 will now feature second-generation resin as well as ceiling speakers.
It is home to a sound package that includes all passengers, providing "highly realistic 3D spatial sound fields with accompaniment." In addition, 3D sound technology is compatible with all types of audio input, from radio to USB and Internet streaming, and there is also sound enhancement technology that improves the sound quality of compressed audio files.
Another characteristic of this system is its speed. Equalizer adjustment according to volume for speed dependent. Sony claims it can provide maximum passenger volume and sound balance at high speeds while minimizing the impact of external noise.
Other Confirmed Features
Mahindra has confirmed many of the new midsize SUV's features over the past few weeks. There's an Adreno X package that includes a panoramic sunroof, door handles, Alexa-based voice commands for the infotainment system, and two digital instrument displays, and a touchscreen.
Mahindra offers the XUV700 with both gasoline and diesel engines, which are the most powerful in their segment. Buyers can choose between a 2.0-liter turbocharged petrol engine producing 200 hp. and a 2.2-liter diesel engine with 185 hp. Both units are optionally available with a six-speed manual or automatic transmission.