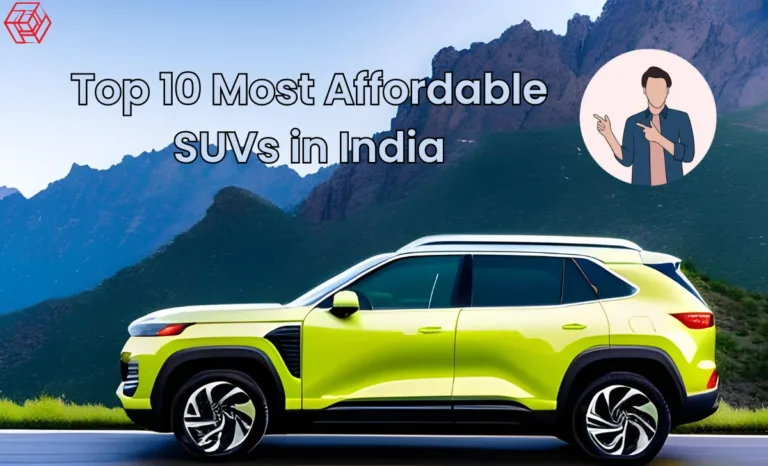 Are you looking for an SUV in India but are on a tight budget? Look nowhere else! We'll expose you to the top 10 most cheap SUVs in India for 2023 in this post. We understand that purchasing a car is a serious commitment, so we want to help you make an informed decision by providing you with all of the information you want.
Affordability is a crucial issue that may make or break a deal when buying an automobile. Finding a reasonably priced SUV that can yet offer performance, design, and comfort is crucial given the growing cost of living. The top 10 most cheap SUVs in India for 2023 fill that need. We've produced a list of the greatest SUVs that provide exceptional value without sacrificing quality. We'll go through each vehicle's features, benefits, and downsides in this post so you can make an informed decision on which SUV is ideal for you. So fasten your seatbelt and get ready to learn about the cheapest SUVs that will suit your needs both financially and practically.
Let's begin immediately!
CONTENTS
Mahindra Bolero Neo
This is a true SUV at this price point, or as close as you can get without a 4×4 system. The Bolero Neo has a ladder-frame chassis with a longitudinally mounted, 100hp, 1.5-litre, 3-cylinder turbo-diesel engine and rear-wheel drive, and is intended for customers who seek a rugged compact SUV that can readily handle poor roads. The Bolero Neo is in a class of its own, with a 5+2 seating layout in a sub-4m size.
It lacks the refinement of other urban compact SUVs, but it makes up for it with a toughness that the competition simply cannot equal. In essence, the Bolero Neo is a more upscale version of the Bolero, with more modern amenities, a nicer interior, and more comfort, however, the third row with side-facing jump seats is tight and hazardous.
Maruti Suzuki Brezza
The Brezza is a terrific all-rounder for anyone searching for a practical, family compact SUV, regularly exchanging top sales with the Nexon. It is available with either a 6-speed torque converter automatic gearbox or a 5-speed manual transmission, both of which are paired to a single, 103-horsepower, 1.5-litre normally aspirated petrol engine with mild hybrid technology. While there is a single-engine option, the Brezza is the only SUV in the market that comes standard with a CNG kit.
In addition, it continues to be among the roomiest and most comfortable SUVs in its class. In addition, the most recent generation of this SUV is loaded with features, some of which are not even provided by competitors. However, the poor engine performance will disappoint anyone wanting a snappy SUV feel, and it is no longer the value-for-money product that it once was.
The Best Electric Motorcycles for Every Type of Rider

Also Read:
Tata Nexon
The Nexon was the most popular SUV in India, and there are several good reasons why. The fact that it is one of just two sub-compact SUVs with a 5-star Global NCAP certification may be the most crucial factor for buyers. In addition, the higher-spec trims have a considerable amount of equipment and a nice appearance. The 1.2-litre turbo-petrol engine with 110 horsepower is smooth but lacks dynamic performance.
The 1.5-litre, 110hp diesel provides a wider range of capabilities. Both engines come with 5-speed manual or automatic transmission options. The Nexon's excellent ride and handling balance, which makes it a terrific long-distance car, is one of its main attractions.
Kia Sonet
The Sonet and the Venue are siblings, therefore they share the same mechanical foundation and drivetrain. However, the diesel engine's availability with a 6-speed torque converter gearbox is where the Sonet clearly excels. Despite being expensive, the diesel-AT engine is perhaps the best option available in the Sonet lineup. Because of its excellent balance of smoothness, fuel economy, and torque, the Sonet may drive like a bigger, more luxurious car. The rear seat isn't as roomy, and the ride can seem a little rough, despite the fact that it is just as well-equipped as the Venue.
Hyundai Venue
The Venue is a master of none. It is available in a variety of pricing ranges and with a variety of powertrain options, including an 83hp, 1.2-litre normally aspirated petrol engine, a 120hp, 1.0-litre turbo-petrol engine, and a 115hp, 1.5-litre diesel engine. Gearbox choices for the petrol include a 5-speed manual, 6-speed iMT, and 7-speed DCT, as well as a 6-speed manual for the diesel.
The Venue is a user-friendly compact SUV with smooth and refined engines, light controls, a comprehensive feature set, and excellent ergonomics. However, it is not ideal; it is not the most comfortable or large compact SUV, nor is it the toughest, but it performs admirably in most aspects.
Renault Kiger
The Nissan Magnite and the Kiger are related vehicles that share the same Renault-Nissan Alliance CMF-A+ platform. Naturally, the Kiger shares the same advantages as the Magnite: it is roomy, well-equipped, and powered by a nimble turbo-petrol engine. Similar to the Magnite, the Kiger offers excellent value for money by undercutting the whole sector with its pricing.
One area where the Kiger does have a tiny edge is in the area of powertrains. While other powertrains are shared by both models, the Kiger's naturally aspirated petrol engine also comes with an AMT transmission. However, the build quality and cabin materials show that cost-cutting techniques were also used here.
Nissan Magnite
The Magnite is the entry point into the small SUV sector, and its top-spec models undercut the whole segment. While the build quality isn't up to class standards, which is where the money was saved, the Magnite is nonetheless well-equipped and beautiful. It is available with a 1.0-litre, 72-horsepower, normally aspirated petrol engine or a 100-horsepower, 1.0-litre turbo-petrol engine; the latter is smooth and powerful. In terms of transmission choices, the turbo-petrol comes with a CVT automatic in addition to the usual 5-speed manual. The Magnite might not have the most supple ride, but it is a simple car to drive and live with.
Tata Punch
The Tata Punch is the smallest, cheapest "SUV" that is currently available. Even having such a small footprint, the Punch excellently manages to cram in several of the characteristics you'd expect from an SUV, like a higher sitting position, plenty of ground clearance, traditional SUV design, and a rather durable build. Admittedly, the Punch is better described as a jacked-up hatchback.
It is equipped with either a 5-speed MT or an AMT gearbox and is powered by the 86hp, 1.2-litre naturally aspirated petrol engine from the Tiago and Altroz. An obvious competitor to the Punch would be the Maruti Ignis, but due to its pricing, which pushes it into the realm of small SUVs, it also has competition from the Nissan Magnite and Renault Kiger.
10 Easy Steps for DIY Car Interior Cleaning and Freshening

Also Read:
Hyundai Creta
The updated Hyundai Creta won't be arriving in India in 2023, but rather in 2024. The style of the SUV market in a few global markets will not apply to the 2024 Creta. 115PS/144Nm 1.5-liter NA petrol engine and 115PS/250Nm 1.5-litre turbo diesel engine are the two engine options available for the Hyundai Creta. The base NA petrol engine comes standard with a 6-speed manual transmission, but you can also purchase it with an iMT clutchless manual or an iVT continuously variable (CVT) automatic transmission.
Also available is a 6-speed torque converter for the diesel engine. Both powertrains adhere to the forthcoming RDE standards. The 2022 Hyundai Creta retains its current design with LED headlights, DRLs, and taillamps. The higher-spec models come with a variety of 16-inch and 17-inch alloy wheel choices. The top-spec SX(O) variants feature a gloss-black centre console. It also gets Hyundai's BlueLink suite of connected car features.
Maruti Fronx
In preparation for its formal introduction, which is in early April, the Maruti Fronx has started to arrive at Nexa dealerships for exhibition. The crossover will fit between the Baleno hatchback and Grand Vitara SUV and be sold at the automaker's NEXA dealerships. The 1-litre booster jet engine from Maruti has returned, but it is now supported by a mild hybrid system. The powertrain's combined output is 148Nm and 100PS. Additionally, a 1.2-litre, normally aspirated Baleno engine with 89 PS and 113 Nm is included. While the Baleno's unit comes with a 5-speed manual and an AMT transmission, the 1-litre engine comes with a 5-speed manual and a 6-speed automatic.