Test drive & evaluation of the Hero Xpulse 200 4V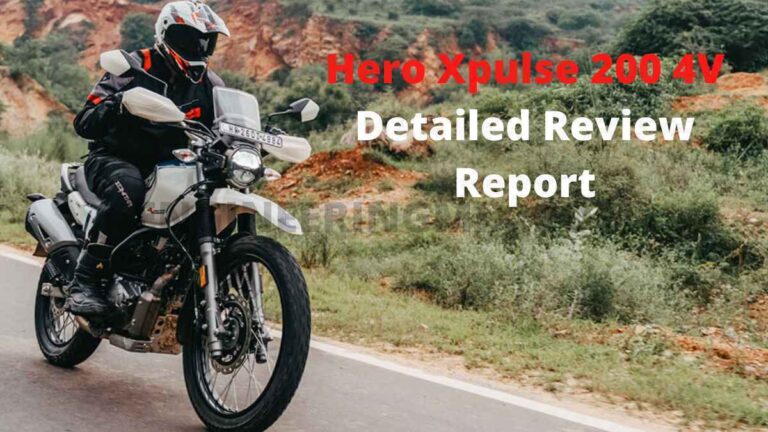 This bike now has a 4-valve cylinder head for its 199.6cc engine, as the name implies. Power and torque are both raised by around 1hp and 1Nm, respectively, with no modifications to the RPMs at which they are produced. The oil-cooler has also been increased by 25%, which will assist the engine run cooler under high-rev situations – something that happens frequently on a bike with only 19.1hp.
Most notably, the gearing has indeed been dramatically reduced in length. The rear sprocket size has increased by 7 teeth, but there's more. All five gear shifters' internal ratios have also been altered. The shift feel and precision of the gearbox appear to be improved above what I recall from the old bike.
The change in riding experience is instantly obvious. The increased power and punchy gearing give the Xpulse a more frenetic feel than previously. Our Vbox testing confirm this, with the Xpulse achieving a 0-100kph time of 13.5 seconds, over 3 seconds faster than the previous model. The in-gear roll-on acceleration figures are also significantly improved.
Another advantage of this gearing is that the engine is more adaptable in heavy traffic, and you'll frequently find yourself in a gear or two higher than you thought. This contributes to a 2kpl increase in municipal efficiency. Shorter gearing has a lot of advantages in a hectic, stop-start riding atmosphere like ours, but it's also useful off road, where you want a powerful, immediately accessible drive.
The drawbacks become apparent on the highway at higher cruising speeds. In this regard, the new 4V is at best on par with the older model. The indicated top speed of 123-125kph hasn't improved much, and you can still barely maintain a cruising speed of 100kph. Anything higher than that, and the engine feels like it's working overtime. Surprisingly, highway fuel efficiency is worse than in the previous generation – by roughly 5kpl.
Whenever bike plan on doing a lot of tough riding, you might like to try a smaller rear sprocket and even stepping up a tooth on the front sprocket. In terms of sound, feel, and refinement, the engine is nearly identical to the BS6 motor – it's not the smoothest engine out there, but it's smooth enough that you won't notice it since the BS6 improvement.
The chassis remains untouched, which is a shame because the chassis has always been the Xpulse's strong suit. All of these improvements add a kilo to the weight, but it's still the similar tall, slender, and light-feeling bike that is tremendous fun to ride off road. It also boasts the best suspension comfort available on anything other than a large and pricey ADV. The way the bike glides past the worst of our roads never fails to bring a smile to your face.
The brakes and single channel ABS remain unchanged. The braking performance is adequate, however when riding off-road, you need unplug the ABS fuse. The system can become engaged on slick surfaces, and its incursion is so powerful that you lose practically all stopping strength. Also, like before, the digital display's gear position indicator isn't very good, and the number disappears as soon as you start to pull the clutch lever in.
The price has risen by only 5,000 rupees to Rs 1.28 lakh ex-showroom, which is pretty reasonable for what you receive. However, it's worth noting that the Xpulse BS6 was released in July 2020 for Rs 1.12 lakh ex-showroom. However, prices have risen across the board, and the Xpulse remains more inexpensive than any other 200cc motorcycle from competitor manufacturers. It now has the performance to compete with all those bikes, but even more crucially, these upgrades have made it more 'Xpulse-y' — it's now a better commuter and a more exciting off-roader.
---
YAMAHA AEROX 155 SPECS+
| | |
| --- | --- |
|  Engine |  Petrol |
| Fuel Type / Propulsion | Petrol |
| Type | 1 cyls |
| Cubic Capacity (cc) | 200 cc |
| Max Power (hp @ rpm) | 19.5hp at 8500rpm |
| Max Torque (Nm @ rpm) | 17.3Nm at 6500rpm |
|  Transmission |  Petrol |
| Gearbox Type | 5 |
|  Body |  Petrol |
| Weight (kg) | 158kg |
| Front Tyre | 90/91-21 M/C 54S |
| Rear Tyre | 120/80-18 M/C 62S |
| Brakes |  Petrol |
| Front | Discs |
| Rear | Discs |
Also Read:
Yamaha Aerox 155 review report