At the 2023 Auto Expo, Maruti Jimny 5-Door model adds functionality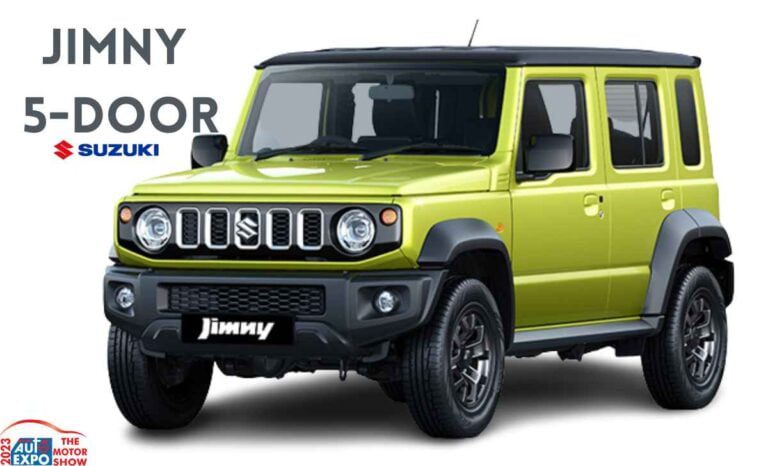 At the Auto Expo 2023, Maruti Suzuki revealed the five-door Jimny in India. The SUV is currently available for Rs 11,000 through the automaker. It will be available in two trims: the range-topping Alpha and the second-to-last Zeta.
Bookings for Rs 11,000 are now being taken.
The five-door Jimny that is ready for production makes its debut here.
Its interior is all-black with a nine-inch touchscreen and automatic air conditioning.
By April 2023, Maruti plans to introduce the five-door Jimny.
Exterior
The model on display has been painted a color known as Kinetic Yellow. The expanded wheelbase, two extra doors, and the grille's silver finish are what draw the most attention to the five-door Jimny. It featured a spare wheel mounted on the tailgate and the "Jimny" insignia at the back. No significant changes have been made to the front or back profiles as the brand has chosen to keep the now-iconic appearance of the current generation Jimny.
The seven available colors are Sizzling Red, Sizzling Red with Bluish Black Roof, Kinetic Yellow with Bluish Black Roof, Granite Grey, NEXA Blue, Bluish Black, and Pearl Arctic White. Maruti Suzuki recently announced the seven color possibilities.
Interior
The interior design is essentially identical to that of the three-door model, with the exception of the improved nine-inch touchscreen entertainment system that includes wireless Android Auto and Apple CarPlay. Cruise control, automatic LED headlights, auto climate control, a reversing camera, electronic stability control (ESC), and up to six airbags are some of the other notable features of the off-road vehicle.
Powertrain: 4WD
The India-spec Jimny is powered by a 1.5-liter gasoline engine from Maruti Suzuki that generates 105PS and 134.2Nm and features idle-engine start/stop. The off-road vehicle has four-wheel drive (4WD) and a low-ratio gearbox. It has a 210mm ground clearance. The Jimny that was on display featured a five-speed manual. Additionally, a four-speed automatic transmission is an option.
Launch, Cost, and Competitors
By April of this year, we anticipate Maruti Suzuki to introduce the five-door Jimny here, with a starting MSRP of Rs. 10 lahks (ex-showroom). Despite being a sub-four meter vehicle, it is a competitive alternative to the Mahindra Thar and Force Gurkha's forthcoming five-door models.