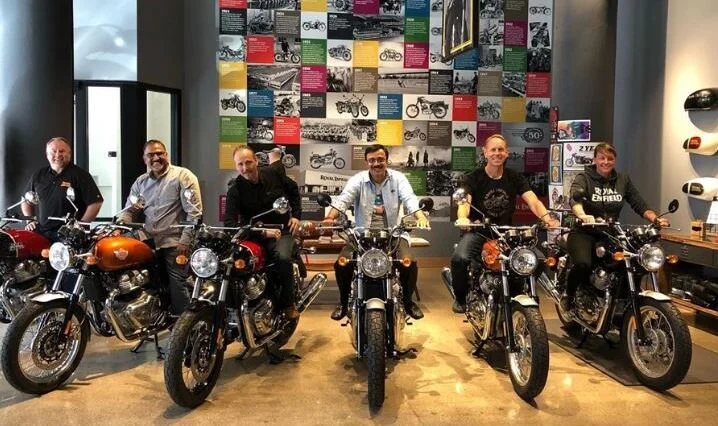 Vinod Dasari retired on August 13 after serving as the managing director of Royal Enfield and managing director of the board of directors of Eicher Motors for 28 months. Dasari recently established a charity hospital in Chennai. Govindarajan has been the chief operating officer since 2013. B. Govindarajan will be responsible for the management of Royal Enfield, joining Eicher Motors' board of directors as a full-time director and serving as CEO. Served as Royal Enfield Officer since August 18.
Govindarajan is the Chief Operating Officer of Royal Enfield. Since 2013, the company stated in a regulatory document that Dasari's decision was mainly based on the personal ambition of pursuing affordable healthcare and building affordable medical facilities. He recently founded a charity hospital in Chennai. Commenting on his decision to move on, Dasari said: "In the past two or more years, Royal Enfield.
From has gone from an unprecedented pandemic to the introduction of various digital-centric solutions. This is a very memorable period. Journey. With the significant expansion of revenue outside of India, we have made incredible progress as an organization, and I am very happy to be a part of it. I decided to pursue my personal passion that has accompanied me over the years with dedication. I wish Siddhartha and the Royal Enfield team all the best.
Vinod K. Dasari career
Prior to joining Royal Enfield, Vinod Dasari served as Ashok Leyland's CEO and Managing Director since 2011 and joined Ashok Leyland in 2005 as Chief Operating Officer. Cummins India Ltd. and Timken Company, where he became the president of the US Global Railroad Division. He started his career at General Electric in 1986.
From 2015 to 2017, Dasari also served as Chairman of the Association of Indian Automobile Manufacturers (SIAM) and Chairman of the Automotive Research Association. India (ARAI), from 2013 to 2015. In 2016, he was also named Automotive Professional of the Year. Dasari holds an MBA from the McCormick School of Engineering and an MBA from the Kellogg School of Management. … In 1988, he received a bachelor's degree in engineering from the University of Louisville.
Siddhartha Lal on Dasari's resignation
Siddhartha Lal, managing director of Eicher Motors, said of Dasari's decision: "Vinod has made a significant contribution to the organization. New initiatives focused on services and solutions have taken the company forward. Step. In the past year and a half, he has also cleverly led the company through unprecedented difficult times. I hope Vinod will go well when we leave to pursue his favorite projects. "Regarding Govindarajan's new role, Lal added Said: "I am very happy to welcome B. Govindarajan in his new role.
Govind has worked at Royal Enfield and Eicher Motors for more than 23 years. Deep understanding of the industry, strong technical knowledge, combined with a keen strategic vision and excellent manufacturing I believe that under the leadership of Govind, we will reach new heights under the goal of becoming a world leader, becoming a market segment of mid-size motorcycles and achieving success in all important markets around the world.