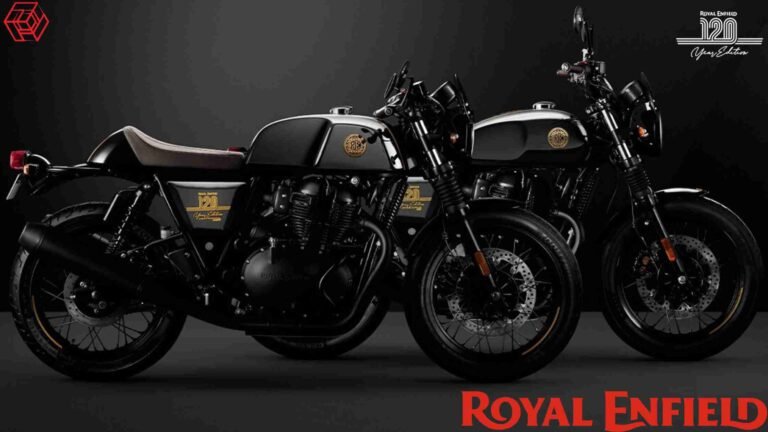 The 120th Anniversary Special Limited Interceptor 650 & Continental GT 650 were delivered to their first clients, Rear Admiral of an Indian Navy Philipose G Pynumootil and Olympian Gagan Narang, respectively. The special edition Interceptor 650 & Continental GT 650 is limited to 120 units in India, with 60 units each both for motorcycles, and 480 units distributed to Europe, the Americas, plus South-East Asia regions. The particularly developed Interceptor 650 & Continental GT 650 were exhibited at EICMA 2021 but then sold online in Founded in December of last year.
These limited-edition motorcycles, designed and produced by Royal Enfield's staff in the UK and India, reflect characteristics that are distinctive to the company and its past. Both of these motorcycles have a distinct black-chrome color scheme that is accented by blacked-out components such as the engine, silencer, and other parts in a variety of black color schemes.
The motorcycles include a hand-crafted, one-of-a-kind die-cast emblem on the fuel tank, as well as the RE hand-painted pinstripes. To complement the overall style, the motorcycles are outfitted with a variety of accessories such as flyscreens, engine guards, heel guards, touring, and bar end mirrors, among others, all in black.
The business began simultaneously delivering these limited-edition anniversary motorcycles to consumers early this week. Philipose G Pynumootil, Rear-Admiral of the Indian Navy, was among the first to reserve the Anniversary Edition Interceptor 650 in December of last year. Pynumootil received his one-of-a-kind '001' Limited Edition Interceptor 650 on March 16 during a special event at the Indian Naval Museum in Goa. Olympian Gagan Narang received his special anniversary edition Interceptor 650 on March 21 in Hyderabad. Dhyan Sreenivasan, a Malayalam film actor, and director, received his special edition Interceptor 650 last week at the brand showroom in Kochi.