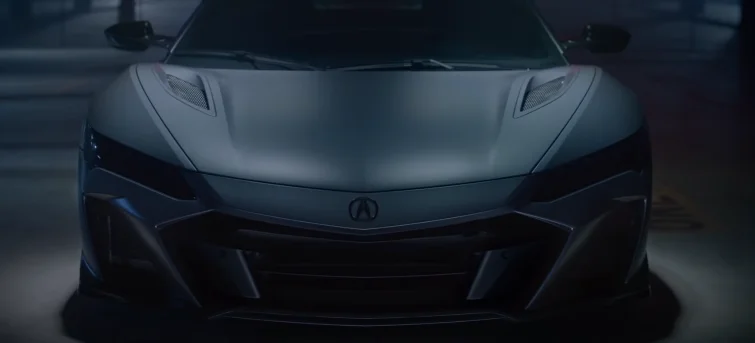 Honda has unveiled the final version of its NSX supercar, the Type S. The 350 NSX Type S is the latest engine from Honda's U.S. plant in Marysville, Ohio, which has produced the second generation model since its launch in 2015. Features a carbon-fiber roof and enlarged intake and rear manifolds. It is equipped with a 600 hp V6 hybrid power plant. and features a redesigned gearbox and suspension.
Exterior and Interior
The NSX Type S has been redesigned with larger air intakes and an improved front end with a lowered spoiler, as well as a new rear end with a larger diffuser for stability at high speeds. It comes standard with a carbon-fiber roof, a new Type S badge, red accents, and a new matte finish. Additional interior design includes Alcantara upholstery and embossed NSX and Type S logos on the glove compartment and headrest.
Drive
Type S is a 3.5-liter V6 hybrid engine with a total output of 600 hp. and 667 Nm. Installed new injectors, intercooler, and turbocharger for the NSX GT3 Racer, improving performance over the standard NSX 573PS / 646Nm. NSX engineers have also increased the usable capacity of the hybrid battery.
20%, production 10%. The 9-speed dual-clutch automatic transmission has been tuned for higher performance with faster up and down movements and more aggressive downshifts. In Sport + mode, clutch changes are 50% faster.
Suspension and Brakes
Honda says it has redesigned the NSX Type S suspension to provide better performance and "emotional connection". The NSX Type S is fitted with custom Pirelli P Zero tires in a new light-alloy and standard Brembo brakes (6 pistons at the front and 4 pistons at the rear).
The new model also offers a lightweight package with a polished carbon-fiber engine cover, carbon-ceramic brakes, and carbon-fiber elements that reduce the vehicle's weight to 26.2kg. NSX Type S in Indian costs ₹ 1.27 crore, 350 units sold. Sold in the USA under the Acura logo, it is the third model in the series to receive the Type S version.