Which is the better processor? Dimensity 920 vs Dimensity 900 vs Snapdragon 778G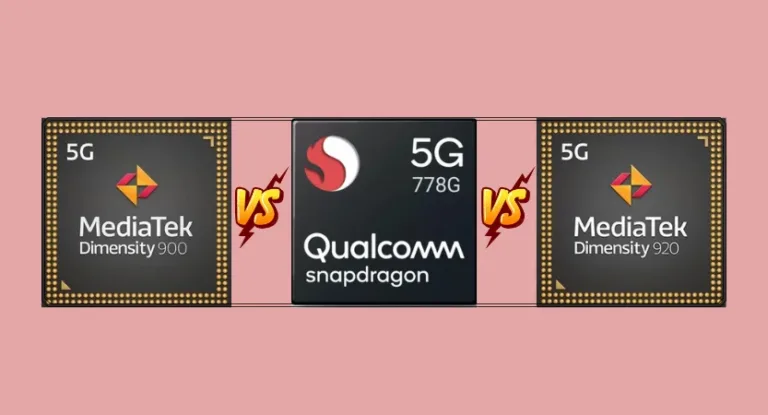 The MediaTek Dimensity 920 is designed to appeal to smartphone users who love cameras, large screens, unstoppable, powerful and fast connections, and unlimited battery life. By integrating the latest technologies for the photo, video, display, and connectivity into a 6-nanometer chip, it delivers ultra-low power consumption that pushes the limits of the 5G smartphone experience.
MediaTek Dimensity 900 aims to capture every detail in every environment through its superior 4K HDR video recording engine and flagship noise reduction function. On-chip 5G through inherent enhancements and leading 6nm design provides faster, longer-distance connections and excellent power efficiency, thus breaking the limit of the smartphone or better battery life in this chip.
Of the two, MediaTek Dimensity has a powerful Cortex-A78 core clocked at 2.5GHz, with a Cortex-A55 design to improve power efficiency. The MediaTek Dimensity 920 provides up to 9% higher gaming performance than the MediaTek 900, the company said. The Dimensity 920 processor supports LPDDR4X and LPDDR5 RAM, as well as UFS 2.1 and UFS 3.1 memory, giving manufacturers flexibility in memory opportunities.
The Qualcomm Snapdragon 778G is designed to deliver cutting-edge mobile gaming and accelerated artificial intelligence (AI) for exceptional photo and video experiences. Qualcomm said the 778G is designed to meet the growing demand from global manufacturers looking for more platform options on the best platforms. The Snapdragon 778G brings most of the latest technology and advanced features to the high-end market. It also helps make next-generation device experiences easier.
These chips offer or provide very low power consumption and provide the best video and video recording experience of these chips and improve the performance and smoothness of the chips, while the Snapdragon chips are suitable for mobile games. best (AI) Flash ship performance ensures a great photo and video experience overall snapdragon chip is a multipurpose chip.
Let's compare the processors.
Dimensity 920 vs Dimensity 900 vs Snapdragon 778G:
Snapdragon 778G
Dimensity 900
Dimensity 920 (

NEW

)
Announced
May 2021
May 2021
August 2021
CPU
1x ARM Cortex -A78 @ 2.40GHz
3x ARM Cortex – [email protected]
4x ARM Cortex – [email protected]

CPU Clock Speed: Up to 2.4 GHz
2x CPU Type 1-Arm Cortex-A78 Up to @ 2.4GHz
6x CPU Type 2-Arm Cortex-A55 @ Up to 2GHz

CPU Clock Speed: Up to 2.4 GHz
2x CPU Type 1-Arm Cortex-A78 Up to @ 2.5GHz
6x CPU Type 2-Arm Cortex-A55 Up to @ 2.0GHz

CPU Clock Speed: Up to 2.5 GHz
GPU
Adreno 642L GPU
Arm Mali-G68 MC4
Arm Mali-G68 MC4
Heterogeneous Multi-Processing
YES
YES
YES
Processor Architecture
6 nm
6 nm
6 nm
CPU Bit
64-bit
64-bit
64-bit
Core
Octa-Core
Octa-Core
Octa-Core
Modem
X53 5G Modem-RF
5G – Mixed duplex FDD+TDD CA
5G – Mixed duplex FDD+TDD CA
Download Speed
3.7 Gbps
2.7 Gbps
2.8 Gbps
Upload Speed
 2.9 Gbps
1.2 Gbps
1.3 Gbps
Wi-Fi
Wi-Fi 6E, Wi-Fi 6, Wi-Fi 5, 802.11a/b/g/n
Wi-Fi 6 (a/b/g/n/ac/ax)
Wi-Fi 6 (a/b/g/n/ac/ax)
Wi-Fi Antenna
FastConnect 6700 System
2T2R
2T2R
Display Type
Max On-Device Display: FHD+ @ 144 Hz
Max External Display: 4K @ 60 Hz
HDR: HDR10+, HDR10
Max Display Resolution – 2520 x 1080
Max Refresh Rate – 120Hz
HDR: HDR10+, HDR10
Max Display Resolution – 2520 x 1080
Max Refresh Rate – 120Hz
HDR: HDR10+, HDR10
Camera
Image Signal Processor – Triple 14-bit ISPs, Qualcomm Spectra 570L image signal processor
Triple Camera, MFNR, ZSL, 30fps – Up to 22 MP
Dual Camera, MFNR, ZSL, 30fps – Up to 36+22 MP
Single Camera, MFNR, ZSL, 30fps – Up to 64 MP
Single Camera – Up to 192 MP
Camera Features – 10-bit HDR HEIF photo capture, Multi-frame Noise Reduction (MFNR), HEIC photo capture, AI-based auto-focus and auto-exposure
Max Camera ISP – 108MP,  20MP + 20MP
Max Video Capture Resolution – 3840 x 2160
Camera Features – Hardware video HDR, 3X HDR-ISP, MFNR, 3DNR, AINR, Hardware Depth Engine, Warping Engine
Max Camera ISP – 108MP,  20MP + 20MP
Max Video Capture Resolution – 3840 x 2160
Camera Features – Hardware video HDR, 3X HDR-ISP, MFNR, 3DNR, AINR, Hardware Depth Engine, Warping Engine
AI Accelerator
YES
YES
YES
Ram Support
LPDDR4X / LPDDR5 Up to 16GB in 3200 MHz
LPDDR4X / LPDDR5 Up to 16GB in 3200 MHz
LPDDR4X / LPDDR5 Up to 16GB in 3200 MHz
Storage Support
UFS 2.1,  UFS 3.1
UFS 2.1,  UFS 3.1
UFS 2.1,  UFS 3.1
Video
Slow Motion Video Capture – 720p @ 240 FPS
Video Capture Formats – HDR10, HDR10+, HLG
Video Capture (30 FPS) – Up to 4K video capture
Video Capture Features – Rec. 2020 color gamut video, Staggered HDR sensor support, Up to 10-bit color depth video capture
Support – HDR10+, HDR10, HLG, H.264 (AVC), H.265 (HEVC), VP8, VP9
Video Encoding – H.264,  H.265 / HEVC
Video Encoding FPS – 4K @ 30FPS
Video Playback – H.264,  H.265 / HEVC,  MPEG-1/2/4,  VP-9,  AV1
Video Playback FPS – 4K @ 30FPS
Video Encoding – H.264,  H.265 / HEVC
Video Encoding FPS – 4K @ 30FPS
Video Playback – H.264,  H.265 / HEVC,  MPEG-1/2/4,  VP-9,  AV1
Video Playback FPS – 4K @ 30FPS
Bluetooth
Bluetooth 5.2
Bluetooth 5.2
Bluetooth 5.2
Navigation
Beidou, Galileo, GLONASS, NavIC enabled, GPS, QZSS
GPS L1CA+L5 / BeiDou B1I+ B2a / Glonass L1OF / Galileo E1 + E5a / QZSS L1CA+ L5 / NavIC
GPS L1CA+L5 / BeiDou B1I+ B2a / Glonass L1OF / Galileo E1 + E5a / QZSS L1CA+ L5 / NavIC
NFC
Supported
Supported
Supported
Security
Fingerprint Sensor: Qualcomm 3D Sonic, Qualcomm 3D Sonic Max 
Biometric Authentication: Fingerprint, Iris, Voice, Face
In-display Fingerprint Sensor
Biometric Authentication: Fingerprint, Iris, Voice, Face
In-display Fingerprint Sensor
Biometric Authentication: Fingerprint, Iris, Voice, Face
RATING

★★★★★

★★★★

★★★★
---
AnTuTu Benchmark [900 & 920]
GeekBench [900 & 920]
---
AnTuTu Benchmark [778G]
GeekBench [778G]
---