Which Is The Best Cng Cars In India 2023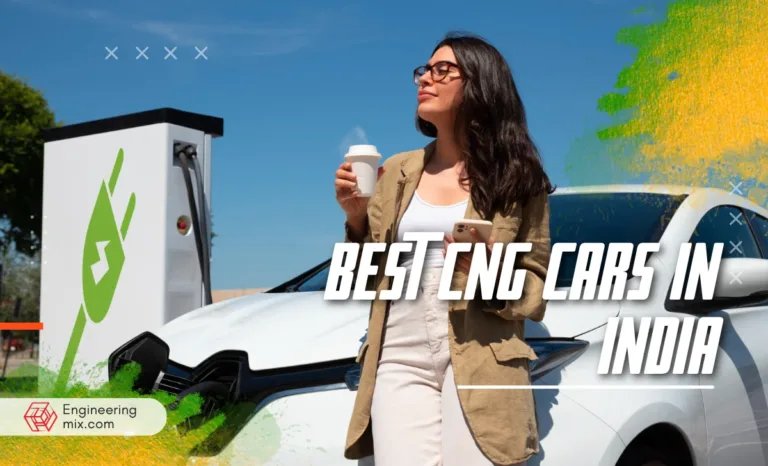 In recent years, CNG cars have emerged as a popular choice for buyers in the Indian market. With sales of CNG-powered passenger vehicles crossing 3.18 lakh units in the financial year 2023 and recording year-on-year growth of 40.7 percent, it is clear that consumers are increasingly opting for this greener fuel option. One of the primary reasons for this trend is the considerably lower cost of CNG compared to petrol and diesel. For instance, in Mumbai, CNG is priced at Rs 79 per kg, which is cheaper than petrol and diesel by Rs 27.29 and Rs 15.25, respectively.
Moreover, with most automakers discontinuing small-capacity diesel engines, buyers are turning to CNG vehicles for better fuel efficiency numbers. While CNG vehicles offer significantly lower running costs, they do come with a higher upfront cost compared to their petrol counterparts. Despite this, car manufacturers are now introducing CNG versions of their more expensive models, which were previously reserved only for petrol or diesel variants.
If you are considering buying a CNG car but want to opt for a more luxurious option, we have compiled a list of the most expensive CNG vehicles currently available in India. This list includes compact sedans, premium hatchbacks, and midsize SUVs that offer the best of both worlds – luxury, and cost-effectiveness.
CONTENTS
List of Best Cng Cars In India
Tata Tigor Starting at Rs 6.29 Lakh
The Tata Tigor is the most affordable compact sedan in the market equipped with a factory-fitted CNG kit. Setting it apart from the competition, the Tigor CNG is propelled by a 1.2-liter, three-cylinder Revotron engine, delivering 70hp and 95Nm of torque in CNG mode and 86hp with 113Nm of torque in petrol-only mode. What makes it truly unique is its ability to start directly in CNG mode, offering convenience and efficiency. With an impressive claimed economy figure of 26.49km/kg, this compact sedan doesn't compromise on features. Its top-spec trim boasts rain-sensing wipers, automatic headlamps, a 7-inch touchscreen, automatic climate control, and a digital instrument cluster.
Maruti Suzuki Baleno Starting at Rs 8.35 Lakh
The Baleno made its debut as the inaugural Maruti Nexa model, introducing a factory-fitted CNG kit in late October 2022. Under the hood, this premium hatchback is equipped with the reliable 1.2-liter, four-cylinder, K12N engine, which generates a robust 90hp and 113Nm of torque in petrol mode. When operating in CNG mode, the engine's performance is slightly reduced to 77.4hp and 98.5Nm. The powertrain is complemented by a 5-speed manual gearbox, offering smooth and efficient gear shifts. Impressively, the Baleno CNG boasts a commendable claimed fuel economy of 30.61km/kg, making it an economical choice for environmentally-conscious drivers.
Also, Read:

Top 10 Safest Cars in India
Hyundai Aura Starting at Rs 8.13 Lakh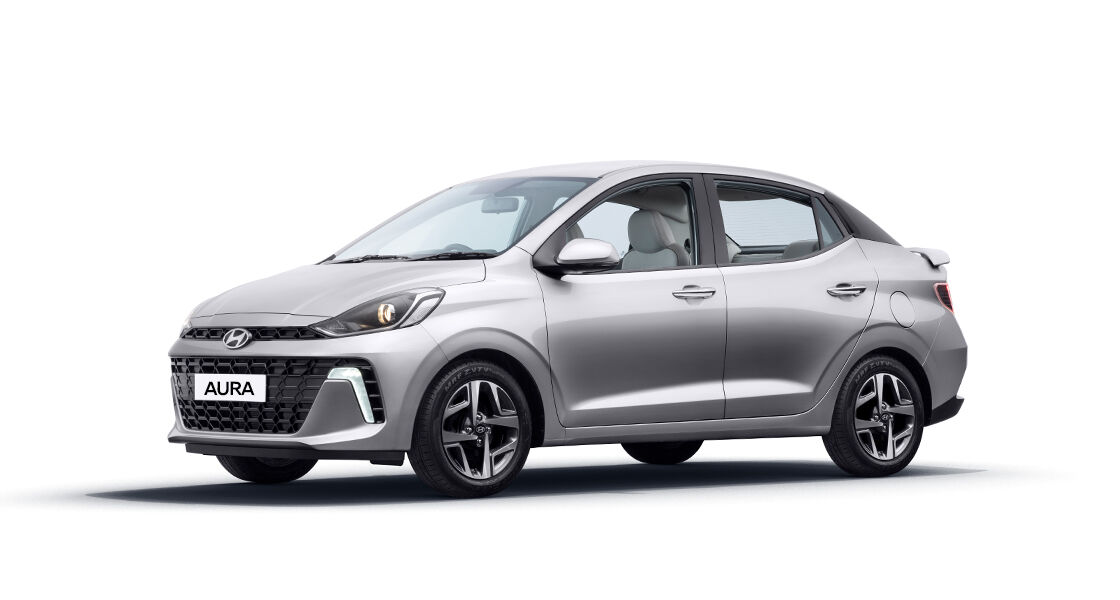 Hyundai introduced the refreshed Aura, featuring an enhanced design and new engine options, including a petrol variant and a factory-fitted CNG kit. Under the hood of this compact sedan lies a 1.2-liter engine, delivering a respectable output of 69hp and 95Nm of torque. The engine is seamlessly mated to a 5-speed manual gearbox, ensuring smooth and efficient performance on the road. Opting for the SX trim of the Aura CNG grants you access to premium features such as 15-inch alloy wheels, four airbags for enhanced safety, an 8-inch touchscreen for intuitive control, and a cooled glovebox to keep your beverages refreshing.
Maruti Suzuki Dzire Starting at Rs 6.15 Lakh
Maruti Suzuki introduced the Dzire CNG, which stands as the priciest compact sedan available in the market today. Under the hood of the Dzire CNG lies a 1.2-liter, four-cylinder engine that generates a commendable output of 76 horsepower and 98.5 Newton meters of torque. This power is efficiently managed by a sole 5-speed manual transmission. Setting it apart from its competitors, the Dzire CNG boasts an impressive fuel efficiency rating of 31.12 kilometers per kilogram, making it the leader in the segment of compact sedans.
Toyota Glanza Starting at Rs 6.71 Lakh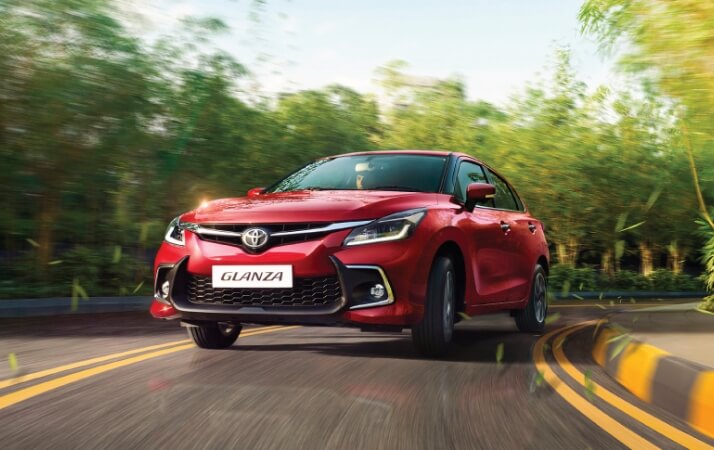 The Glanza, Toyota's inaugural Compressed Natural Gas (CNG) model, bears a striking resemblance to the renowned Baleno CNG. Available in two trims, namely S and G, the Glanza CNG shares an identical powertrain with its Maruti counterpart. While both vehicles boast comparable power and mileage figures, it's worth noting that the Glanza CNG carries a slightly higher initial price tag, exceeding that of the Baleno by Rs 15,000. Inside the Glanza, you'll discover a range of shared features, including LED projector headlamps, sleek 16-inch alloys, a user-friendly 7.0-inch touchscreen, a responsive voice assistant, cutting-edge connected car technology with Over-The-Air (OTA) updates, a convenient start/stop button, and the added assurance of six airbags on the top-spec trim.
Also, Read:

Best Long-Range Electric Cars in India
Maruti Suzuki Brezza Starting at Rs 5.29 Lakh
The groundbreaking Brezza CNG is the first compact SUV to embrace a CNG powertrain. Under its hood lies the formidable 1.5-litre K15C DualJet engine, exclusively mated to a 5-speed manual transmission. While this potent engine generates 101hp and 136Nm in petrol mode, its performance slightly adjusts to 88hp and 121.5Nm when running on CNG. Sporting a spacious 55-liter CNG tank, the Brezza CNG proudly boasts an impressive claimed fuel economy of 25.51km/kg.
Equipped with the ZXi trim, the Brezza CNG comes loaded with a range of top-notch features. Take control effortlessly through the 7.0-inch touchscreen embedded with the SmartPlay Pro+ system, which offers seamless wireless connectivity for Android Auto and Apple CarPlay. Enjoy the convenience of a start/stop button, the luxury of a sunroof, and the ease of cruise control, all within your reach. The Brezza CNG's ZXi trim elevates your driving experience to new heights.
Maruti Suzuki Ertiga Starting at Rs 8.64 Lakh
The Ertiga, part of Maruti Suzuki's Arena line-up, is a remarkable MPV that follows in the footsteps of the Eeco by offering a factory-fitted CNG kit. Available in VXi and ZXi trims, the Ertiga CNG is powered by a 1.5-litre K15C engine, paired with a 5-speed manual transmission. In CNG mode, it generates an output of 86hp and 121Nm, while in petrol-only mode, it delivers 99hp and 136Nm. The top-spec variant boasts notable features such as automatic headlamps, a convenient start/stop engine button, a user-friendly 7-inch touchscreen, four airbags for enhanced safety, and cooled cupholders. With a 60-liter tank capacity, the Ertiga CNG achieves an impressive claimed mileage of 26.11km/kg.
Maruti Suzuki Grand Vitara Starting at Rs 10.70 Lakh
Grand Vitara, is the first midsize SUV in the country to come equipped with a factory-fitted CNG kit. This remarkable vehicle was launched in January of this year. It is powered by the highly efficient 1.5-liter K15C engine, which is also found in the XL6 and Ertiga CNG models. In CNG mode, the SUV generates an impressive 88hp and 121.5Nm of torque, while in petrol-only mode, it delivers 103hp and 136Nm of torque. The engine is paired with a reliable 5-speed manual transmission.
The Grand Vitara CNG offers an array of features in its top-spec trim. It boasts full-LED headlamps, stylish 17-inch alloy wheels, and a user-friendly 9.0-inch touchscreen system equipped with Android Auto and Apple CarPlay for seamless connectivity. This SUV also comes equipped with advanced connected car technology, an engine start/stop button, and, most importantly, six airbags to ensure the safety of all passengers. Experience the perfect blend of power, efficiency, and cutting-edge features with the Grand Vitara CNG. Whether you're tackling city streets or embarking on thrilling adventures, this SUV is ready to exceed your expectations.
Also, Read:

Top 10 Best 7-Seater Cars in India
Toyota Urban Cruiser Hyryder Starting at Rs 10.73 Lakh
The Hyryder, a midsize SUV, has become the second vehicle in its class to come equipped with a factory-fitted CNG kit. It competes head-to-head with the Grand Vitara CNG and is available in two trims – S and G. While the Hyryder CNG costs Rs. 95,000 more than its corresponding petrol manual trims, it offers an impressive fuel economy figure of 26.6km/kg, identical to that of the Grand Vitara CNG.
Despite being the most expensive CNG car currently available in the market, the Hyryder CNG is well worth the investment, as it shares the same powertrain as the Grand Vitara CNG and offers a top-spec G trim, which includes full-LED headlamps, 17-inch alloy wheels, a 9.0-inch touchscreen infotainment system with Android Auto and Apple CarPlay, connected car tech, an engine start/stop button, six airbags, and cruise control.
---
Looking for the best CNG cars in India in 2023? We have compiled a list of top-notch CNG-powered vehicles that offer great performance, fuel efficiency, and eco-friendliness. Whether you're concerned about rising fuel prices or want to contribute to a cleaner environment, these CNG cars are worth considering. Check out our curated selection of the best CNG cars available in India in 2023 and make an informed choice for a more economical and sustainable driving experience.