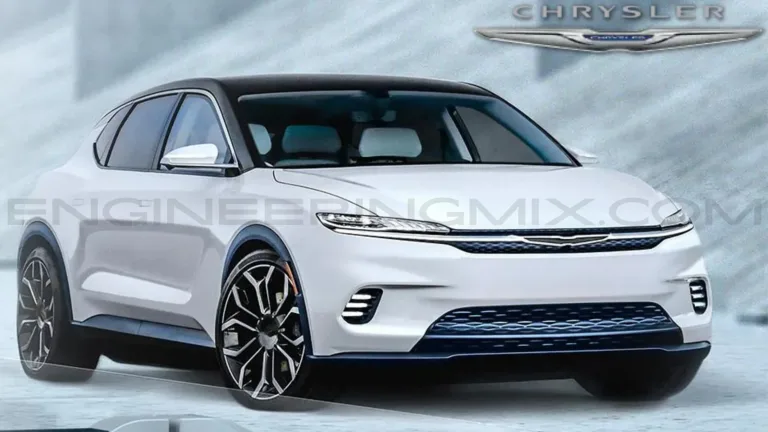 Chrysler debuted the AirFlow Vision Concept at CES 2020, a sleek four-seater all-electric concept car named after the brand's car from the 1930s. The Chrysler Airflow concept, which appears to be a more production-ready version of the AirFlow Vision, will be unveiled in 2022.
The airflow concept is most likely a design study for future Chrysler electric vehicles.
Dual axle-mounted electric motors power the vehicle.
The tech-heavy cabin has screens for all occupants.
The final concept is less outlandish – and appears to be more producible – than the 2020 concept, but it still emphasizes connectivity and enhanced digital interaction.
Interior Design and Style:
The Airflow is a sleek, low-slung crossover with a similar silhouette to the Ford Mustang Mach-E. Its long wheelbase and wide track are said to "enable a dramatic stance and deliver excellent handling and performance dynamics," while its long wheelbase and wide track are said to "enable a dramatic stance and deliver excellent handling and performance dynamics."
The Airflow's autonomous and connection capabilities are reflected in the lounge-style cabin layout. A digital gauge cluster and an independent display for the front passenger surround the large central infotainment screen, while a pair of independent seats in the back replace a traditional bench.
Chrysler's sustainable development ambitions are embodied by vegetable-tanned leather seat upholstery and carpets made from recycled materials, while touches like the panoramic roof, ambient lighting, and craftsperson-like attention to detail in accent points hint at the brand's premium aspirations as it transitions to an all-EV lineup.
Technology:
The Airflow idea is the first tangible clue to Stellantis' new STLA EV platform's performance and connection capabilities, which will be available in a variety of sizes throughout the company's portfolio in the coming years.
The Airflow uses Stellantis' STLA Brain and STLA SmartCockpit technologies to provide each passenger with "a customized experience that seamlessly integrates them with their digital life as well as the other passengers."
A sequence of screens in the front and back may be customized to suit each passenger, and interfaces can be shared between panels using simple swipe movements. Each seat also has a camera that allows passengers to engage in video conferences. The concept is also capable of level-three autonomous driving utilizing STLA AutoDrive technology; however, it is uncertain when this feature will be available for purchase.
Details about the powertrain:
A 204hp motor on each axle provides power, but Chrysler claims the chassis can support bigger motors, "providing the opportunity for future high-performance applications." The battery capacity is unknown, although the Airflow is said to be capable of 560-640km per charge.
Chrysler, which has joined Stellantis' 14-brand portfolio since initially introducing the Airflow, demonstrated the physical idea as it revealed aspirations to go all-electric by 2028.
While the brand has not stated whether or not the first completely electric Chrysler vehicle would be based on the Airflow, the concept does hint at the design elements and technology breakthroughs Chrysler hopes to incorporate on its first EVs.
It is characterized by "leading-edge drive-system technology, completely linked customer experiences, and sophisticated mobility features," according to Chrysler, which were originally hinted at in 2020.
As each of Chrysler's European sister brands — Peugeot, Citroen, Vauxhall, Fiat, and Alfa Romeo – introduces customized EVs, this technology is expected to be rolled out to them.