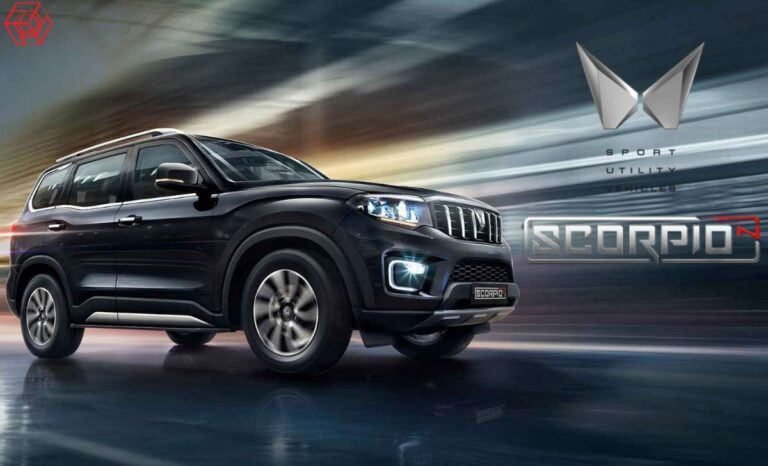 In the Indian automobile industry, Scorpio has been one of the most powerful domestic brands. Since its introduction over 20 years ago, the Scorpio model has grown to be one of the most widely used across the nation. Even in the most isolated settlements of Leh and Ladakh, you may find a Scorpio owner, as well as in the metropolitan jungles of Mumbai.
Mahindra has introduced two generations of the Scorpio over the past two decades, and on June 27, 2022, at a starting price of INR 11.99 lakhs, after testing the Z101 (the Scorpio N's internal name) for close to two years, Mahindra finally introduced the eagerly anticipated Scorpio N (third-generation model). Here are our initial thoughts on the Scorpio N media campaign, to which we were invited.
The exterior design and styling of the Mahindra Scorpio N: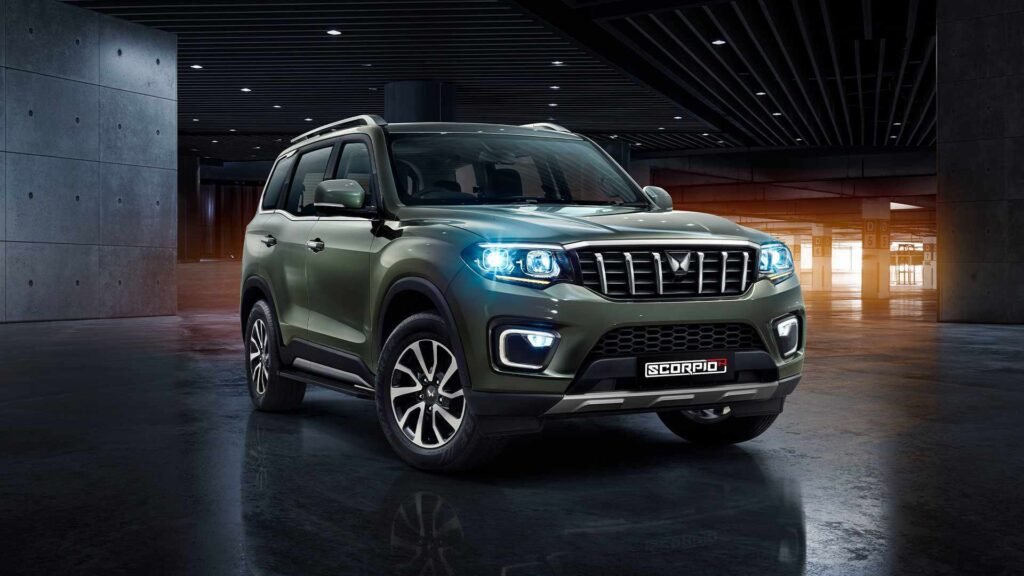 The appearance is maybe the most telling. It's a large, high-riding SUV with a long hood and a striking two-box design that shouts 'Scorpio.' However, it begins to stray from the formula after that. It's smoother and curvier, with subtler and better-integrated elements rather than shouty and in your face. The grille is more three-dimensional, the hood scoop is gone, and there are LED running lamps and fog lamps in the bumper that are fashioned like a scorpion's sting in addition to the headlamps being thinner and fully LED.
The heavy plastic coating around the car has been reduced to a black stripe around the periphery, and the character lines have been baked into the bodywork itself this time. In part because of a chrome strip running above it, which bends up into another scorpion sting design element in the rearmost window, lines like the bulging wheel arches and the kink over the rear wheel—both present in the XUV700—are now much more noticeable.
Of course, big roof rails are back, but you might miss the kink in the roof towards the back. The 255/60 tires on the 18-inch chrome-lined wheels, which are the perfect balance of sporty and rough, seem appropriately substantial and are purposely spaced from the wheel arches above them.
However, the departure is most noticeable at the back, which now appears bland and lifeless in comparison. Perhaps Mahindra feels the same way because there isn't even a single image of the company in the brochure, and it hardly appears in any advertising. The most recent version of the tall, "stacked" taillamps appears to be unsubtly inspired by Volvo's SUVs, and overall, it has a somewhat uninteresting appearance. The chrome bumper trim also doesn't do much to brighten things up. Overall, the exterior design of the Scorpio N is more mature, even luxurious. However, some of the older Scorpios' individuality has also been lost as a result.
However, it is noticeably bigger, which is wonderful for an SUV and especially for a ladder-frame SUV like the Scorpio, whose allure mostly stems from its massive, imposing road presence. It is 206mm longer than the previous model, measuring 4,662mm, with a 70mm longer wheelbase (2,750mm), and a 97mm increase in width (1,917mm). However, the height has dropped by 125mm to 1,870mm. On paper, the 187mm of ground clearance may not appear to be much, but once you experience what it is capable of off-road, all doubts will vanish.
Interior design, space, and comfort of the Mahindra Scorpio N: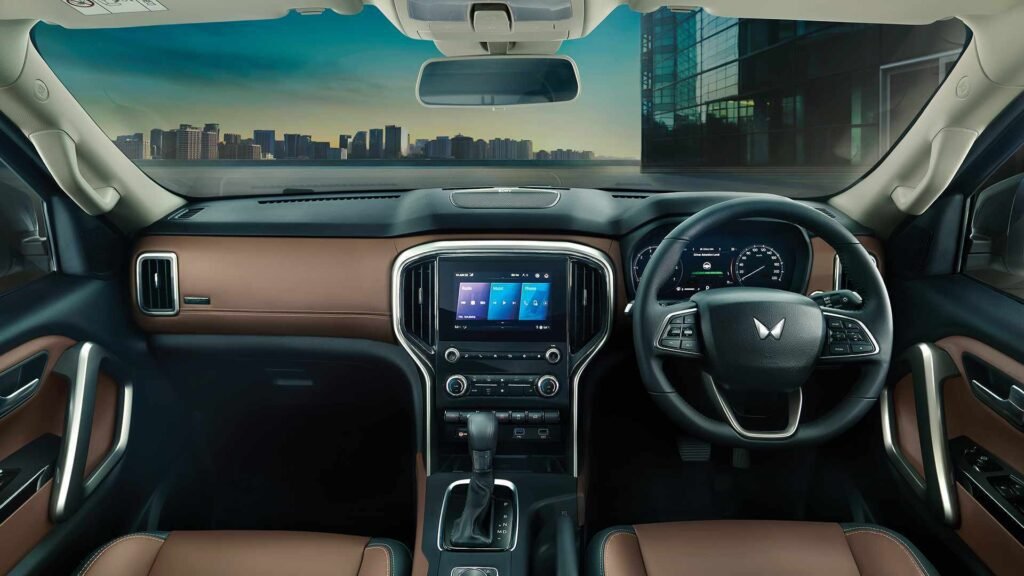 Depending on your build, you will have to either climb or stroll inside. However, Mahindra has made sure that you truly feel like the King of the Road once you are behind the wheel. We came across a lot of C and D segment SUVs during our journey, but due to their relative road presence, they felt more like hatchbacks or crossovers.
In terms of cabin feel and experience, the Scorpio N has undergone a revolutionary update when compared to the previous generation Scorpio. From the previous generation, the quality of the plastics, the use of soft-touch materials, and even the fabric of the seating have all significantly improved. It still can't compete with a standard Korean or German SUV with a similar price tag in terms of quality, though. Although there have been significant improvements, there are still numerous panel gaps and plastic switches with dubious form factors. Despite a thorough design change, the available cubby holes aren't really useful, which is also true of the previous generation Scorpio.
Because it is a Mahindra, the Scorpio N has a long list of features. These include an 8-inch touchscreen infotainment system, a sunroof, a 7-inch driver information display, AdrenoX with built-in Amazon Alexa, Wireless Android Auto, a 12-speaker Sony setup, dual-zone temperature control, push-button start/stop, front and rear cameras, cruise control, a motorized driver seat, and so much more!
We have no issues with Mahindra omitting any important or desirable features. In reality, at this price point, the Scorpio N offers the most features, as was explicitly stated in the product presentation at launch.
However, if there had been fewer features but they had operated much more smoothly and consistently, we might have been happier. The touchscreen interface is partially laggy, the feed from the rear view camera is subpar (particularly in 2022), and the navigation system struggles to determine your current location. In the near future, we anticipate Mahindra will be able to address at least some of these issues through software updates.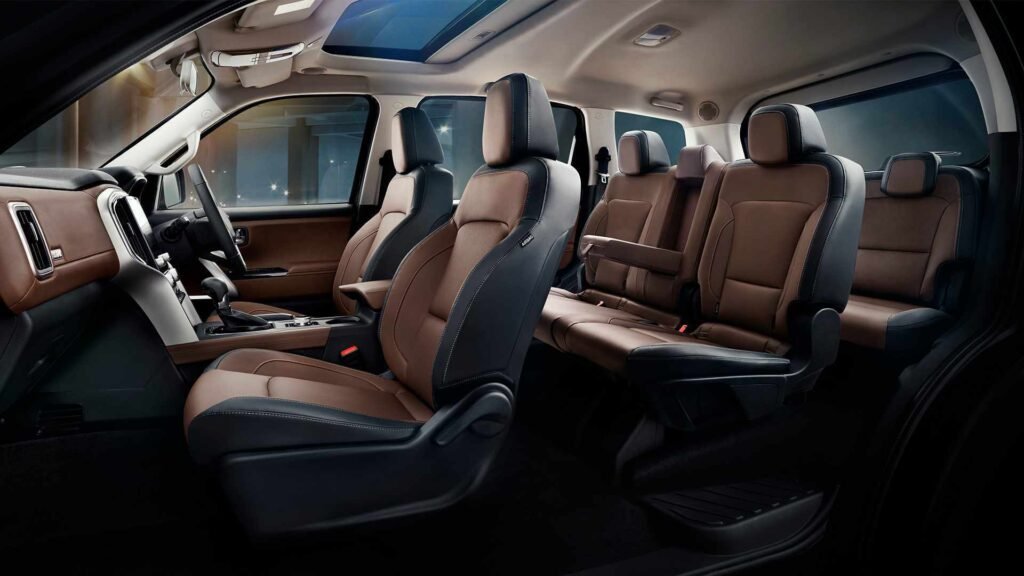 Two different seating arrangements, a 7-seater, and a 6-seater are available for the Scorpio N from Mahindra. The 6-seater form includes Captain Seats in the second row, while the 7-seater model includes a bench seat. Unlike the previous generation Scorpio, the third row's seats are facing forward.
Scorpio N should receive a higher safety rating as a result of this improvement. Rear row seats, as with other 7-seaters in this market, are better suited for children rather than fully grown people. The first and second rows of seats offer good seating comfort and spaciousness, which contributes to the premium atmosphere Mahindra has worked to create within the Scorpio N.
Features, technology, and safety of the Mahindra Scorpio N:
The touchscreen is the largest improvement to Scorpio N's feature set. The AdrenoX software, which made its debut on the XUV700, is used by the 8-inch device, resulting in a clean, user-friendly interface built around shortcut tiles for the important features, including media, navigation, the phone, and apps. Although we did find a few minor problems on our pre-production test cars, such as menus occasionally taking too long to load, the screen is sleek and snappy.
The onboard navigation system is smooth and well-featured, though most people will likely utilize Google Maps via wireless Android Auto or Apple CarPlay that is included in the system. Additionally, connected cars have technology that includes remote controls, navigational aids, an SOS feature, and even Amazon Alexa instructions. There are also a few connected apps for news, weather, restaurants, and other things.
Some more extensions include a wireless phone charger, a sunroof, dual-zone climate control, engine stop/start, keyless entry and ignition, automatic headlamps and wipers, motorized driver seat adjustments, and drive modes in diesel versions, and off-road drive modes in 4WD models. Although it doesn't exactly have a 360-degree system, the Scorpio N has front and rear parking sensors as well as front and back cameras. The display stream for both, however, is jerky and has very low quality in real life.
In addition to parking sensors and cameras, the Scorpio N has parallel and perpendicular parking guides, ESC, four-wheel disc brakes, hill descent, and hill hold, ISOFIX child seat mounts, six airbags, a tire pressure monitoring system (TPMS), and even a drowsiness detection system. Safety equipment has also been given top priority in the Scorpio N. With this one, they are really going for the five-star rating.
Mahindra Scorpio N's performance, transmission, and engine:
Although they may have made their debut on the Thar, with which the Scorpio N shares many of its fundamental components, it's nevertheless fascinating to watch how this most recent generation of Mahindra turbo-petrol (mStallion) and turbo-diesel (mHawk) engines will perform in the new SUV. The 2.0-liter turbo-petrol produces 203hp and 380Nm in automatic form, while the 2.2-liter diesel produces 178hp and 400Nm, with slightly lower torque outputs in manual form.
Starting with the fuel, it makes an impression immediately away with powerful reflexes from a stop. It's so strong that when you flex your right foot, it lunges forward, and you almost wish there was an 'Eco' setting to soften reflexes for times when you just want to amble. It's incredibly easy to change a sluggish creep into a rapid overtaking with a tiny press on the accelerator once you're used to it. This is not a high-revving petrol engine, and power is concentrated in the low to mid-range, which is ideal for a large, heavy SUV like this, where a large torque reserve is more important.
Despite some extremely wet testing circumstances, the Scorpio N petrol automatic managed a remarkable 10.2sec 0-100kph pace, with kickdown acceleration rates of less than 8 seconds from 20-80kph and 40-100kph.
Because of this large bruiser's laid-back personality, both vehicles have six-speed torque-converter automatic transmissions. Although these gearboxes are smooth, they don't shift quickly or have a sporty feel. In both versions, if you let the revs drop too low, you could get the occasional glitch on the downshift; if you floor it, there will be a pause before it enters gear; and there will be a tiny lag on the upshift; but if you keep your inputs smooth, they will carry out their duties quietly. Although there aren't any paddles for manual shifting, there is a gear lever.
The diesel seems even better suited to the Scorpio N, thanks to its greater torque reserve and more calm character. It is a little simpler to control because to the softer reactions off the line. From there, you can just tap into the enormous torque tank that is accessible in the mid range as needed. There is virtually no reason to go close to the redline, and you wouldn't want to either as doing so would fill the cabin with a lot of fuel from underneath. The drive modes Zip, Zap, and Zoom, which stand for Eco, Normal, and Sport, are exclusive to diesel engines.
In Zip, there is a noticeable dulling of reactions, but in Zap and Zoom, they seem very similar. In our acceleration test, there was only a tenth of a second difference between the modes, with the fastest 0-100kph time being 11.23 seconds. For such a big automobile, our tested kickdown timings of sub 7 seconds for 20-80 kph and low 9 seconds for 40-100 kph are also quite outstanding. The powerful mid-range of the previous Scorpio is now gone. Scorpio devotees will miss the previous model's distinctive spring in its step because the new one lacks it.
Mahindra Scorpio N handling and riding comfort:
The Scorpio N's chassis and suspension have received a lot of attention as part of its premium transition. The chassis has lost 10% of its weight while the body-in-white has lost 13%, making it around 500 kg lighter overall. The use of additional high- and ultra-high-strength steel has also resulted in a stronger chassis and body construction.
The brand-new suspension follows, with double wishbones up front and a five-link setup at the back that uses a Watt's Link setup to restrict lateral movement under load. On top of that, frequency-dependent damping sags over high-frequency bumps but stiffens near bends.
As a result, the Scorpio is neater around corners. Yes, this body-on-frame SUV with its lofty driving position still has a very high center of gravity, which will always preclude it from becoming an outright handling machine, but the improvement is apparent. It gives you the confidence to go through corners quicker than you'd ever dare in an old Scorpio because there is body roll, but it is much more contained, as is pitching under braking, squatting under acceleration, and all of these things together. More so with the gasoline version, which feels somewhat sharper and more in control through turns than the diesel.
The steering, which is now electrically assisted, is light and surprisingly fast. It has been precisely adjusted to provide just the appropriate amount of input and a sense of security, even at high speeds. Although the brakes are unquestionably powerful and efficient, they seem a little too grabby and might need a more progressive feel. This large SUV is surprisingly manoeuvrable once you get used to driving it, especially given its size.
In comparison to the previous generation, the ride quality has significantly improved and feels considerably less utilitarian. Despite this, there is some residual bounce, particularly at the back, which Mahindra's engineers haven't been able to completely eliminate. However, as this is a ladder-frame SUV, some choppiness over low-speed bumps is to be expected. You will enjoy that the new EPS eliminates the steering shock that afflicted the previous Scorpio.
Mahindra Scorpio N's 4WD off-road capability: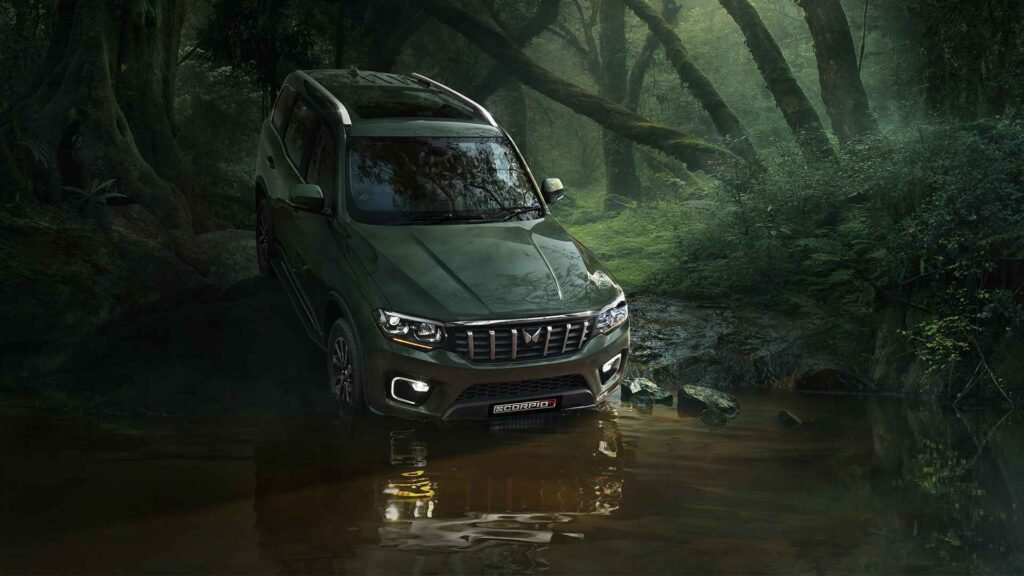 Although it was offered on earlier models as well, Mahindra claims that this is the most sophisticated Scorpio N yet. Diesel variants will be available, both manual and automatic. With a series of terrain modes selectable by a rotary dial, it integrates the reliable mechanical 4×4 system, including a low-range transmission, brake-locking, and mechanical-locking diffs, into the 4Xplor system.
To demonstrate the new Scorpio's capabilities, the Mahindra Adventure team designed an off-road circuit, where it, predictably, excelled. The Scorpio N makes things even simpler, much as how the second-generation Thar improved the usability and conveniences while retaining the off-road prowess of the first model. Although it won't be nearly as competent as the Thar, it's still no pushover with its large ground clearance and 500mm water wading capacity.
Review of the Mahindra Scorpio: Conclusion
In conclusion, Mahindra has once again used its tried-and-true approach. Mahindra's success with the XUV500 and more recently with the Thar and XUV700 can be attributed to a similar strategy. The Scorpio N strikes me as a solid, all-terrain urban SUV that offers good value for the money (at least, based on the initial pricing).
The mix of dependability, a vast feature list, and beautiful masculine aesthetics has always worked in Mahindra's favor, and we are confident that the Scorpio N will definitely entice buyers away from Hyundai, Tata, and Kia stores. In terms of introducing vehicles that can establish category benchmarks for quality, Mahindra still has a ways to go. Scorpio N's waiting time should increase to comparable levels as with XUV700 and Thar despite its flaws.