As gasoline prices continue to rise across the country, electric vehicles are becoming a viable alternative for many mid-sized homes in India. Increased air pollution is also an important factor in the production of e-vehicles and motorcycles, which are actively promoted by several companies.
This is a list of the best electric bikes and scooters you can buy right now. About the gas bill …
And today it saves a lot of money. You can consider brands like Ather, Bajaj, TVS, Ola, Simple Energy, and Hero that cater to the needs of every driver in the EV market. These are the best electric bikes and scooters you can buy in India.
In listing the best electric bikes and scooters

1) Ola S1/S1 Pro
2) Simple One
3) Ather 450 Plus/450X
4) TVS iQube
5) Bajaj Chetak
Specs
Ola S1/S1 Pro
Simple One
Ather
450/450X
Bajaj Chetak
TVS iQube
Moter Power
8.5KW/8.5KW
4.5KW
5.4KW/6KW
4.5KW
4.6KW
Battery Type
Lithium-ion
Lithium-ion
Lithium-ion
Lithium-ion
Lithium-ion
Battery Capacity
2.98KWh/3.97KWh
4.8KWh
2.23KWh/2.61KWh
2.25KWh
3KWh
Torque
58 Nm
72 Nm
22 Nm/26 Nm
33 Nm
16Nm
Kerb Weight
121kg/125kg
110kg
108kg
118kg
118kg
Price
1 lakh/
1.30 lakh
1.10 lakh
1.14 lakh/
1.30 lakh
1 lakh
1.03 lakh
1] Ola S1/S1 Pro
Ola Electric launches S1 and S1 Pro electric scooters in India. Considering the combination of price and features, the packaging looks very attractive. The company is very excited about its plans in India and says that the introduction of electric scooters is definitely a revolution in the field of electric vehicles.
Choose from a vibrant palette of 10 colors with a matte finish. The Ola S1/S1 Pro has a boot width of 36 liters. Helmet and Products Perfect match your unique personality, shining day or night for a week. All rounds, seams, bolts, hooks, etc. are subject to the highest level of research.
Ola S1/S1 Pro Color Option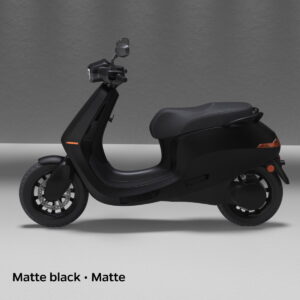 Winner of the German Design Award 2020 for its sleek design, superior wheels, and monochrome panels, the Olas scooter is recognized worldwide for innovation, sustainability, and superior design. Molded sidewalks and seats – Passengers will love how comfortable the ride is.
The Ola S1 and S1 Pro electric scooters have fixed batteries. The S1 unit is 2.98 kWh, but the high-end S1 Pro variant has a larger battery with a 3.97 kWh capacity. When charged with a regular home charger, the S1 takes 4 hours and 48 minutes, but the S1 Pro has a large battery that lasts a few hours even after 6 hours and 30 minutes. In fast charging conditions, both scooters can be charged in just 18 minutes over a distance of 75 km.
Ola S1/S1 Pro Specs & Price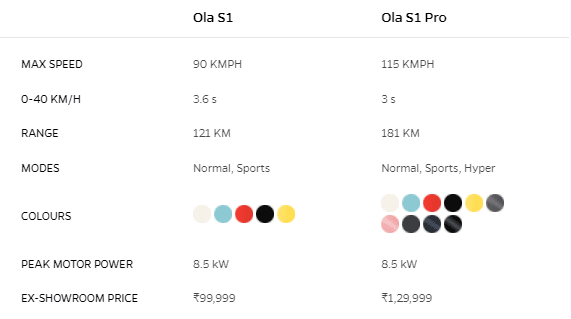 Read
Cheapest Scooty in India
Aprilia SXR 125 Full Review
2] Simple One
Simple Energy reports: "We have obtained patents for the internal design of the chassis and engine brakes." One uses 12-inch wheels on both sides with telescopic suspension and monoshock forks. As with almost all other electric scooters, braking is done with disc brakes.
Simple One Color Options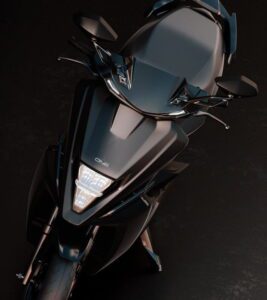 One of them is a 4.5 kW motor with a maximum torque of 72 Nm. This car accelerates the scooter to 0-40 km / h in 2.95 seconds. In this case, the maximum speed indicated is 98 km / h or 105 km / h, depending on the choice of tires. There are four types of electric scooters: Eco, Ride, Dash, and Sonic. One also drives the rear wheels using a chain drive.
The scooter is available in two tire specifications. One variant has 90 / 90-12 front and rear tires, while the other variant uses 100 / 80-12 (front) and 110 / 80-12 (rear) tires. One Electric Scooter carries one of the lightest turns in its class – 110 kg.
3] Ather 450 Plus/450X
Everything you imagined your next ride to be and beyond. The Ather 450X. Engineered ground-up with a singular focus on performance, the Ather 450X is a sheer joy to ride. Out accelerate everyone with a twist on the throttle, cruise at top speeds, and criss-cross across the city on a single charge.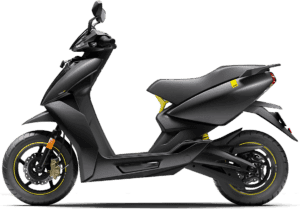 Water-resistant IP-67 rated pressure die-cast aluminum battery pack. Time we save your back centrally mounted mono-shock suspension in the rear Stop.With two disc brakes – front & rear. Never go to refuel again. Meet Ather Dot. A dedicated, connected and easy-to-install home charger to recharge your Ather 450X in your own parking space.
Fast charge your Ather 450X at any of the Ather Grid public charging points in your city. Find one on the Ather app or on the dashboard. Going on a long ride? Carry a portable charger along. Up to 15 km in 10 min, Check charge status remotely through the Ather app, Charge at any 5A plug point with a portable charger, Charge for free at Ather, and Grid till Sep'21. One app for everything Ather. Connect to the scooter, charger, and the cloud to access information & features remotely.
Ather Overall Power

4] TVS iQube
Meet your practical need for everyday performance with more enjoyable and efficient rides, without adding any noise to the city. Zip past everyday traffic in the blink of an eye. Go as fast as 78 km per hour, and make your commute a breeze to ride, Forget queuing up at the fuel station. Just charge your TVS iQube overnight, and ride non-stop for 75 km. In fact, considering an average, commute of 30 km a day, you can go without recharging for 2 days straight!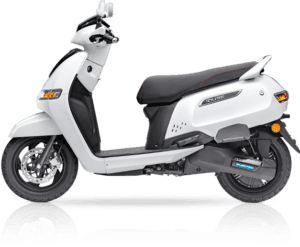 TVS iQube is equipped with a silent motor shaft with a maximum power of 4.4 kW, which guarantees minimum power loss. So leave this for someone else. The TVS iQube is powered by three lithium-ion batteries in a rugged extruded aluminum casing that makes it water and dust-resistant. The battery comes with a dedicated BMS system and a 3 year / 50,000 km warranty, so you can enjoy worry-free driving.
With a maximum power of 4.4 kW, the TVSiQube provides optimal performance without losing transmission, so it can be used in all driving conditions, including busy roads and tourist / open roads. The new TVSiQube accelerates from 0 to 40 in just 4.2 seconds, so you are always one step ahead. Even uphill, you don't have to think twice before hitting the road.
Auto Shutdown – When the iQube is fully charged, SMART X HOME will automatically shutdown to prevent overcharging and ensure the battery is in good condition. Confirmed Feedback: SMARTXHOME will only start charging if it is confirmed that there is no misuse or theft from the SmartConnect app or RFID card.
SMARTXHOME is smart enough to automatically resume power in the event of a power outage. Charging resumes as soon as power is restored and turns off when the battery is depleted.
5] Bajaj Chetak
The Chetak name returned to the Indian two-wheeler field with the introduction of Bajaj's first electric scooter. There are two variants of the Bajaj Chetak electric scooter – Urbane and Premium.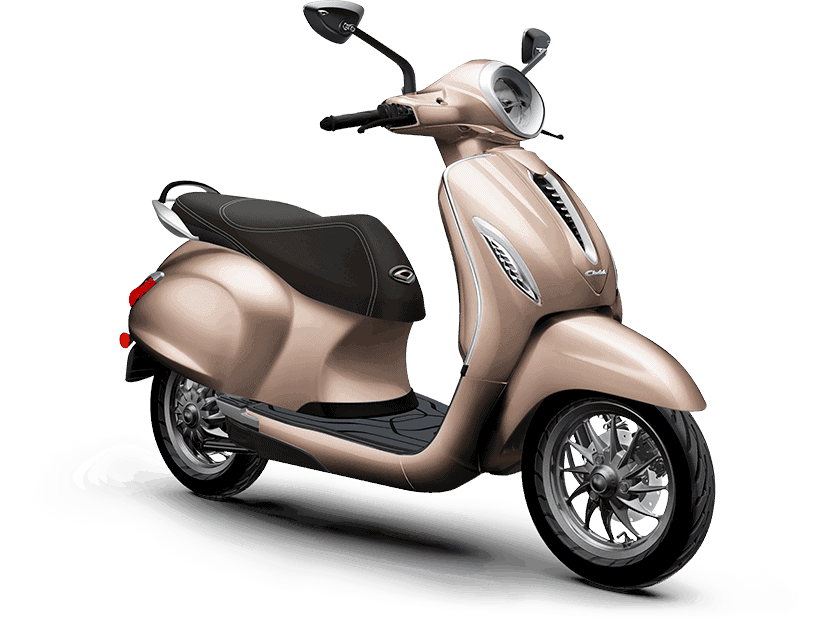 The Bajaj Chetak is a 4kW BLDC motor with 2 driving modes: Eco and Sport. Chetak's top speed is still 60 km/h.
The Chetak battery range is a 3kWh lithium-ion battery pack. The actual cruising range of the electric scooter is 95 km in Eco mode and 85 km in Sport mode.