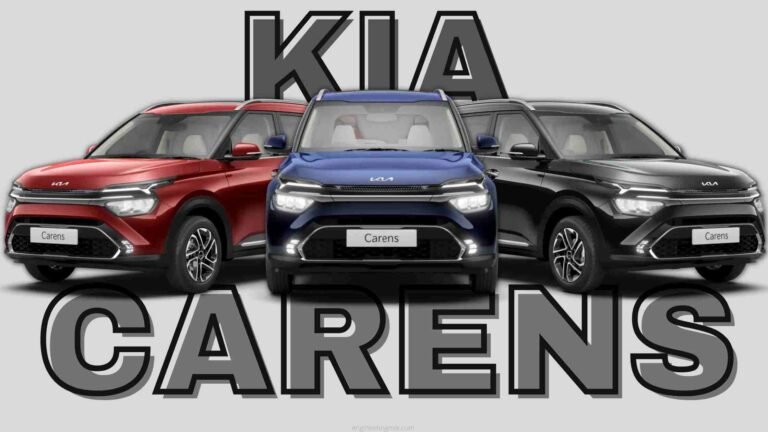 In December of last year, Kia Carens, their latest three-row offering for the Indian market. The Carens made its international premiere in India, which will also serve as the company's main manufacturing hub for both domestic and export purposes. The Carens, which will be Kia's third mass-market model for India when it debuts in February, tries to combine SUV style with MPV utility. We've put together a list of the most important information regarding the Carens below. This article compares the 5 variants in KIA Carens full specifications detailed listed here.
Carens is built on a modified version of the Seltos platform.
It has a luxurious and feature-rich interior, as expected from Kia.
Also Read: Bookings for the Kia Carens are now open
KIA Carens Highlights
Powerful 10 Hi-Safety Package [6 Airbags, ESC, VSM, BAS, HAC, DBC (Downhill Brake Control), ABS, All Wheel Disc Brakes, Highline TPMS, Rear Parking Sensors]
"One Touch Easy Electric Tumble" 2nd Seat
Roof Flushed Diffused AC Vents in the 2nd and 3rd Rows
Seats in semi-leatherette (black and indigo)
60:40 Split Seats in the Second Row with Sliding, Reclining, and Tumble
50:50 Split Seats in the Third Row with Reclining and Full Flat Folding
ISOFIX Child Anchor 7
There are 5 USB Type C ports in total.
KIA Carens Trim Evaluation

[ Included – ✅ ] [ Not-Included – ❎ ]
Price
₹8,99,900
₹9,99,900
₹13,49,900
₹14,99,900
₹16,19,900
Kia Carens
[ Engine Option]
Premium
Prestige
Prestige Plus
Luxury
Luxury Plus
Smartstream G1.4 T-GDi 7DCT
❎
❎
✅
❎
✅
Smartstream G1.4 T-GDi 6MT
✅
✅
✅
✅
✅
Smartstream G1.5 6MT
✅
✅
❎
❎
❎
1.5L CRDi VGT 6AT
❎
❎
❎
❎
✅
1.5L CRDi VGT 6MT
✅
✅
✅
✅
✅
Kia Carens
[ Exterior ]
Premium
Prestige
Prestige Plus
Luxury
Luxury Plus
Digital Radiator Grille
✅
✅
✅
✅
✅
Body-Colored Front Bumper
✅
✅
✅
✅
✅
Body-Colored Rear Bumper
✅
✅
✅
✅
✅
Rear Bumper Garnish
✅
✅
✅
✅
✅
Rear Skid Plate
✅
✅
✅
✅
✅
Wheel Arch and Side Moldings
✅
✅
✅
✅
✅
Beltline
✅
✅
✅
✅
✅
Body-Colored Outside Door Handles
✅
✅
✅
❎
❎
Chrome Outside Door Handles
❎
❎
❎
✅
✅
Roof Rail
❎
✅
✅
✅
✅
Integrated Rear Spoiler with Hi-Gloss Black Side Cover
✅
✅
✅
✅
✅
Sky Light Sunroof
❎
❎
❎
❎
✅
Halogen Headlamps
✅
✅
✅
❎
❎
Crown Jewel LED Headlamps
❎
❎
❎
✅
✅
Star Map LED DRLs
❎
❎
✅
✅
✅
Ice Cube LED Fog Lamps
❎
❎
❎
✅
✅
Halogen Taillamps
✅
✅
❎
❎
❎
Star Map LED Taillamps
❎
❎
✅
✅
✅
Pole Type Antenna
✅
❎
❎
❎
❎
Shark Fin Antenna
❎
✅
✅
✅
✅
Kia Carens
[ Interior ]
Premium
Prestige
Prestige Plus
Luxury
Luxury Plus
Leather Wrapped D-Cut Steering Wheel with Carens Logo
❎
❎
❎
✅
✅
Indigo Metal Paint Dashboard
✅
❎
❎
❎
❎
Dark Metal Paint Dashboard
❎
✅
✅
❎
❎
Distinct Black High Gloss Dashboard with Techno Print
❎
❎
❎
✅
✅
Rich Two Tone Black and Beige Interiors with Indigo Accents
✅
❎
❎
❎
❎
Elite Two Tone Black and Beige Interiors
❎
✅
✅
❎
❎
Opulent Two-Tone Triton Navy and Beige Interiors
❎
❎
❎
✅
✅
Leather Wrapped Gear Knob
❎
❎
❎
✅
✅
Premium Head Lining
✅
✅
✅
✅
✅
Inside Door Handle Hyper Silver Metallic Paint
✅
✅
✅
✅
✅
Leatherette Wrapped Door Trims
❎
❎
❎
✅
✅
Luggage Board
✅
✅
✅
✅
✅
Cabin Surround 64 Color Ambient Mood Lighting
❎
❎
❎
✅
✅
Semi Leatherette (Black & Indigo) Seats
✅
❎
❎
❎
❎
Premium Fabric and Leatherette Combi (Black & Beige) Seats
❎
✅
✅
❎
❎
Premium Leatherette (Beige and Triton Navy) Seats
❎
❎
❎
✅
✅
Rear Doors Spot Lamp with Kia Logo Projection
❎
❎
❎
❎
✅
Front Armrest with Open Storage and Tray
✅
✅
✅
✅
✅
Kia Carens
[ Infotainment & Technology ]
Premium
Prestige
Prestige Plus
Luxury
Luxury Plus
Multi-Drive Modes – Normal/Eco/Sports (AT/DCT)
❎
❎
✅
❎
❎
Multi-Drive Modes linked with Ambient Mood Lighting – Normal/Eco/Sports (AT/DCT)
❎
❎
❎
❎
✅
(7.5") Segment LCD Cluster
✅
❎
❎
❎
❎
(12.5") Full Segment LCD Cluster with Advanced 4.2″ Color TFT MID
❎
✅
✅
✅
✅
(8.0″) Touchscreen with Android Auto, Apple Carplay
❎
✅
✅
❎
❎
(10.25") HD Touchscreen Navigation with Next Generation Kia Connect
❎
❎
❎
✅
✅
BOSE Premium Sound System with 8 Speakers
❎
❎
❎
❎
✅
4 Speakers
❎
✅
✅
✅
❎
USB A-type Media Port
❎
✅
✅
✅
✅
Multiple Power Sockets with 5 C-Type USB Ports
✅
✅
✅
✅
✅
Smartphone Wireless Charger with Cooling Function
❎
❎
❎
❎
✅
Android Auto / Apple Carplay
❎
✅
✅
✅
✅
Wireless Phone Projection
❎
✅
✅
❎
❎
Steering Mounted Audio Controls
❎
✅
❎
❎
❎
Steering Mounted Audio & Cruise Controls
❎
❎
✅
✅
✅
Bluetooth Hands-Free
❎
✅
✅
✅
✅
Voice Recognition
❎
✅
✅
✅
✅
Smart Pure Air Purifier with Virus and Bacteria Protection
❎
❎
❎
✅
✅
Front Parking Sensors
❎
✅
✅
✅
✅
Auto Headlamps
❎
✅
✅
✅
✅
Auto Cruise Control with Speed Limiting Option
❎
❎
✅
✅
✅
Kia Carens
[ Safety ]
Premium
Prestige
Prestige Plus
Luxury
Luxury Plus
ABS (Anti-lock Brake System)
✅
✅
✅
✅
✅
BAS (Brakeforce Assist System)
✅
✅
✅
✅
✅
ESC (Electronic Stability Control)
✅
✅
✅
✅
✅
HAC (Hill-start Assist Control)
✅
✅
✅
✅
✅
VSM (Vehicle Stability Management)
✅
✅
✅
✅
✅
DBC (Downhill Brake Control)
✅
✅
✅
✅
✅
6 Airbags
✅
✅
✅
✅
✅
Tire Pressure Monitoring System (Highline)
✅
✅
✅
✅
✅
Rear Parking Sensors
✅
✅
✅
✅
✅
All-Wheel Disc Brakes
✅
✅
✅
✅
✅
High Mount Stop Lamp with Emergency Stop Signal
✅
✅
✅
✅
✅
Front seat belts with Pretensioner and Load limiter
✅
✅
✅
✅
✅
Drive and Passenger Seat Belt Reminder
✅
✅
✅
✅
✅
Central Door Lock
✅
✅
✅
✅
✅
Speed Sensing Door Lock
✅
✅
✅
✅
✅
Impact Sensing Door Unlock
✅
✅
✅
✅
✅
ISOFIX Child Anchor
✅
✅
✅
✅
✅
| | | | | | |
| --- | --- | --- | --- | --- | --- |
| KIA Carens [ Color Options ] | Premium | Prestige | Prestige Plus | Luxury | Luxury Plus |
| Exterior | | | | | |
| Interior | | | | | |